The Evergreen EH22 is a Touring Summer tyre designed to be fitted to Passenger Cars.
Tyre Reviews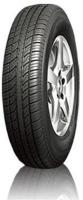 Sorry, we don't currently have any magazine tyre tests for the Evergreen EH22
Sorry, we don't currently have any label data for the Evergreen EH22
Sorry, we don't currently have any questions and answers for the Evergreen EH22. Why not submit a question to our tyre experts using the form below!
Ask a question
We will never publish or share your email address
Have you driven on the Evergreen EH22 tyre?
Have YOU got experience with the Evergreen EH22? Help millions of other tyre buyers
Latest Evergreen EH22 Reviews
Excellent budget tyre with good all round performance. Had to increase pressures about 4 psi from factory recommendations to get the car to handle as it should. Can't comment on road noise (mentioned in some other reviews) but it doesn't really get a look in with a Lotus-Ford twin cam only a few inches from my left ear! I'm currently shopping around for my next set.

Given
50%
while driving a
Nissan Micra 1.2 SX
(165/60 R14) on
a combination of roads
for 4,500
average
miles
very noisy tyres.
Given
60%
while driving a
Citroën
(165/70 R14 R) on
a combination of roads
for 1,000
average
miles
I just got a citroen c3 04 hdi with these on x4 there good grip but rubbishas very very loud noise from the tyres sounds like I have a dif or axel gone but if I hit a new bit of tarmac it all goes silent so avoid them if you have a tinny car like mine.
They grip well - down to the 3-4mm mark in sun, snow, and rain; VERY well in the snow when new, I havent had to use my snow boots since buying them!!
On the other hand, from new they tramline badly in the wet, it takes a few miles before they calm down.
Road noise is good and they ride well, the only letdown is wear, only 10,000 miles of fairly sedate - mostly hilly town driving.
A good solid budget tyre. These front tyres replaced the Fullrun tyre that the car came with when i bought it 3 years old - they were awful, noisy, no grip, a death trap. These Evergreen gripped the road well and were fine in the wet and the snow. They wore out quicker than i had hoped but were still very good value.