The GT Radial 4Seasons is a Touring All Season tyre designed to be fitted to Passenger Cars.
Tyre Reviews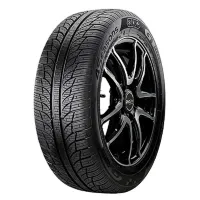 Sorry, we don't currently have any label data for the GT Radial 4Seasons
Sorry, we don't currently have any questions and answers for the GT Radial 4Seasons. Why not submit a question to our tyre experts using the form below!
Ask a question
We will never publish or share your email address
Top 3 GT Radial 4Seasons Reviews
Given
83%
while driving a
Vauxhall Astra SRi
(205/55 R16 V) on
a combination of roads
for 5,000
average
miles
An excellent all season tyre. Works well in all conditions. Have tried them on snow & ice, performed well without issues.
I bought a set of four for my Astra K at around 2/3rds of the price of Cross Climates. I was not disappointed at all.
They feel safe in all road conditions.
Gone are the days of me buying a winter & summer set of tyres now. GT Radial have upped their game with this all season tyre at a bargain price.
Given
84%
while driving a
Volkswagen Golf
(225/45 R17 V) on
mostly country roads
for 10,500
average
miles
Bought these gt radial as recommendations from my local dealer, at a fraction of the price of the crossclimate that were on display. Extremely happy after 4 months of driving. Very comfortable, gives nice confidence on wet roads and handle well on dry roads. Sofar drove about 10,000 miles and tread is like new! These tyres will last!!
Highly recommended, use the moneysaved over the french premium tyre!
Given
50%
while driving a
Fiat Panda 4 x4
(175/65 R15) on
mostly town
for 1,500
spirited
miles
Early days 1000 miles, initially very good, this week's rain= drying out/damp roundabouts a bit hairy compared to old Maxxis ASP2 and Conti Winter contact. I never had to slow from dry speeds with old tyres! GT Radial good wet/damp in straight-line braking just roundabouts giving issue at moment.
Perhaps the roads are greasy but after downpours I'd have thought washed clean. We will see as time and weather change.
Have you driven on the GT Radial 4Seasons tyre?
Have YOU got experience with the GT Radial 4Seasons? Help millions of other tyre buyers
Latest GT Radial 4Seasons Reviews
It is a good tyre and lasts a long time would buy them again
Suzuki
(185/60 R15 H) on
mostly country roads
for 0
easy going
miles
just fitted on recommendation., I will update later.