The Goodyear Eagle Vector is a High Performance All Season tyre designed to be fitted to Passenger Cars.
Tyre Reviews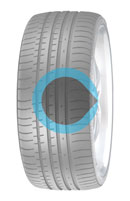 Sorry, we don't currently have any magazine tyre tests for the Goodyear Eagle Vector
Sorry, we don't currently have any label data for the Goodyear Eagle Vector
Sorry, we don't currently have any questions and answers for the Goodyear Eagle Vector. Why not submit a question to our tyre experts using the form below!
Ask a question
We will never publish or share your email address
Top 3 Goodyear Eagle Vector Reviews
These tyres I got when I bought the car about 9months ago in summer. They were very good then, I was able to drive quite sportily on the backroads without any doubt of loosing grip or understeering.

With the recent heavy snow and about 13000miles later, this car with these tyres has battled through it as if it were a rainy day. excellent handling and traction even with tread
Have had these tyres on an 220 CDI Mercedes estate 25000 miles. Great all round tyre.
Ideal for this type of motor
Have bought these tyres again , no hesitation really good grip wet and dry and have lasted lot longer than I thought 33,000 miles on the front of my Audi a4 diesel so I cant complain . Would recomend these
Have you driven on the Goodyear Eagle Vector tyre?
Have YOU got experience with the Goodyear Eagle Vector? Help millions of other tyre buyers
Latest Goodyear Eagle Vector Reviews
Given
71%
while driving a
Volvo s60 D5 (163)
(225/45 R17 V) on
mostly motorways
for 25,000
average
miles
Good all round tyre. I bought a set of 4 tyre in november 2008 as 2nd hand with 6.5mm of tread. The front lasted some 15.000 mile and rear are still on after 30.000 mile. I found a good compromise for english seasons, quite cool in the summer and not so cold in the winter and I think they are a good choice if you can't afford to go for winter tyres for 2-3 months a year then change back for summer ones.
Proved to have very good grip on the road on very cold days, some grip on snow (although can't except winter tyre performance), good on both wet and dry tarmac. Noisier than summer tyres but quieter than winter ones.