The Goodyear Wrangler MT R is a All Terrain and Off Road All Season tyre designed to be fitted to SUV and 4x4s.
Tyre Reviews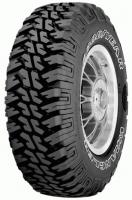 | Size | Fuel | Wet | Noise | Weight |
| --- | --- | --- | --- | --- |
| 0/0 R0 0 | | | | 16.83kgs |
| 235/70 R16 106Q XL | | | | 15.75kgs |
| 235/85 R16 114Q NON-DOT | | | | 19.90kgs |
Sorry, we don't currently have any questions and answers for the Goodyear Wrangler MT R. Why not submit a question to our tyre experts using the form below!
Ask a question
We will never publish or share your email address
Top 3 Goodyear Wrangler MT R Reviews
Given
71%
while driving a
Land Rover Defender
(235/85 R16 Q) on
a combination of roads
for 44,000
spirited
miles
Original equipment fitted to my Defender, I've driven over 40k miles on the original set and will probably get another few months (4-5000 miles) out of them before they need legal replacement.
I do a lot of motorway driving (65-80mph cruising), but also lived in the Pyrenees for over 7 months and used these on windy mountain roads as well as rocky tracks, snow and some sand, mud and grass. they've never let me down in any circumstance. I've taken them form beach to 8,000 feet in snowy mountains in a single day and they basically just work wherever.
They can be noisy like any mud tyre but they are slow wearing and I never feel compromised on the road by using them.
They do also look fantastic if that's important to you (I don't care much myself, but they regularly attract comment).
I've looked at others but I'll almost certainly just buy these again when I need new tyres.
I have been driving modified 4x4's for many years and always have used BFGs' (MT or KM2)
I was talked into these tyres by mates that I thought had an idea what a tyre should be able to do.
After the first 5000klm I took them off and threw them away.
They dont grip on either wet or dry bitumen.
They dont grip in the mud and are less than helpful on wet rocks
Goodyear you are a joke!
Apart from the complete lack of grip I got more flat tyres in this 5000klm than the other 2million klms I've traveled on BFG's

If you buy these tyres after this information you my friend are crazy.

Have a nice day
From the land of OZ
Given
86%
while driving a
Land Rover Defender
(235/85 R16) on
mostly country roads
for 12
average
miles
These were factory fitted on my Defender 90. They have lasted well and I've never encountered any problems. Most importantly they look great. I will definitely buy again when it comes to replacing.
Have you driven on the Goodyear Wrangler MT R tyre?
Have YOU got experience with the Goodyear Wrangler MT R? Help millions of other tyre buyers
Latest Goodyear Wrangler MT R Reviews
Land Rover
(235/85 R16 R) on
mostly country roads
for 31,000
average
miles
Got them in 2015 and now 2021 they are needing a change. They are still road legal but the depth is no longer good enough for heavy mud. I have completed just over 30k miles. It's a farm vehicle that pulls a 3t horse muck tipper trailer into fields every week. It also goes down wet clay farm tracks which only the tractors go on. For 6 months of the year, the field is very wet. By winter, the field is trashed and with the muck pile being pushed around by a tractor, there are a few inches of water and horse wee on top of a few inches of sloppy mud and a lot of rutting from tractors and other vehicles dropping their muck off. It is a mud bath and it's on a hill. For almost 5 years, I have not had any trouble getting in or out of the muck field with the trailer. I have seen other vehicles struggle and get stuck. Some I have helped get out. I mention this as the trailer is a serious drag to pull through the slop yet these tyres didn't let me down. That is until recently. I have had to disconnect the trailer on two occasions. Grip returned without it but had to winch the trailer instead. Most mud tyres start to give up their mud grip after around 50% wear. These got to about 70% wear before I felt I was not getting the same grip. I could probably get another 10k road miles on them but the mud grip is now on par with an AT rather than an MT tyre. Other characteristics are the tyre is not that good when new. Fine in the mud and on dry road in the wet, for the first 3000 odd miles they lack grip but that does come good later. Indeed, initially, I thought of changing them early. However, it was early spring the weather soon improved and I decided to wait. Come Autumn with a few thousand more miles on them, the wet grip was much improved. I have experienced that with other tyres where a mm or two of wear and the road grip improves. Road noise is typical of mud tyres. They sing quite loudly in the wet but no more than other mud tyres. Lastly, snow grip. Really fantastic. We use the defender as an emergency support vehicle during snow taking staff to the hospital and carrying things back and forth to those snowed in. It didn't let me down once. I considered paying more and going with BFG KM3s. I would probably get an extra 20k miles out of those but they cost a third more. Plus, with the mileage it does, I would be more concerned about the age of the tyre than the grip. So, I am getting a new set of the same tyres.