The Hero HR668 is a Touring Summer tyre designed to be fitted to Passenger Cars.
Tyre Reviews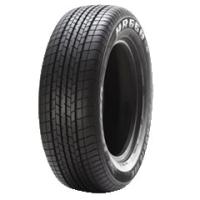 Sorry, we don't currently have any magazine tyre tests for the Hero HR668
Sorry, we don't currently have any label data for the Hero HR668
Sorry, we don't currently have any questions and answers for the Hero HR668. Why not submit a question to our tyre experts using the form below!
Ask a question
We will never publish or share your email address
Have you driven on the Hero HR668 tyre?
Have YOU got experience with the Hero HR668? Help millions of other tyre buyers
Latest Hero HR668 Reviews
Given
49%
while driving a
Honda Accord Inspire
(195/65 R14) on
a combination of roads
for 30
average
miles
Got these on a car that I bought second hand...hard tire - will probably last another 40,000 kms...terrible in the wet...hard ride as well...a bit noisy. Probably a tire meant for the middle east market with their hot overall temperatures. Would not recommend any other use.
Currently have these on the front of my Vauxhall Astra Eco4. In the dry they grip fine at what most people would define as 'normal' e.g sticking to speed limits however if you do try and push the car slightly (especially around corners) they soon lose grip and make a lot of screeching noise. Wet roads, again they are fine if you drive normally however like dry conditions it does not take much to lose grip, when they do lose it the car feels like its on ice. Noise wise they are quiet, they are wearing very well and are a comfortable tyre. The irony is wouldn't have fitted these but my father had the car from me for 6 months and he chose them. They actually cost the same as the firestones I have on the back which for this car and tyre size I really rate.

So the long and short of it is if you only ever intend to strictly obey the speed limits and drive sensibly then these tyres are fine however if on occasions you do like to push it slightly then I would enquire about a better tyre.