The Kumho Solus HA31 is a Touring All Season tyre designed to be fitted to Passenger Cars.
This tyre has been replaced by the Kumho Solus 4S HA32.
Tyre Reviews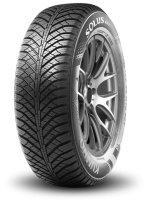 2019 Tyre Tests

2017 Tyre Tests

2016 Tyre Tests

2015 Tyre Tests

2014 Tyre Tests
Sorry, we don't currently have any label data for the Kumho Solus HA31
Questions and Answers for the Kumho Solus HA31
2019-04-02 - Car is a Suzuki Swift 2015 with 185/55R16 tyres and suffers bad tramlining with aysemetrical tyres fitted. I'm looking to replace with All season tyres and the best seems to be Vredestein Quatrac 5 however they are also aysemetrical. Considering the Khumo HA31 as the next best non aysemetrical tyre but worried they are a poor tyre overall. What would you choose?
The tramlining won't be a factor of the tread pattern but the tyre construction.
---
Ask a question
We will never publish or share your email address
Top 3 Kumho Solus HA31 Reviews
Great in snow and wet.I like these tyres in curve and wind.In wind weather feel like there no wind,the car is very stability.
Given
83%
while driving a
Nissan altima
(225/55 R17) on
a combination of roads
for 1,000
average
miles
Recently put these tires on my 2008 Altima coupe. Cannot believe the snow and ice traction. I have never had dediciated winter tires and always used a good all season tire year round. Usually I get around just fine, but I recently bought this car used with brand new a id envigorntiresnby yokohama. OMG!!! Never had an all season tire perform so poorly in winter in my 40 years of driving in Canadian winters. Was scared shitless to even drive the car, but finally got up enough couage one day to putz up to the tire dealer and see what we could do. Bought the HA31 all weather Kuhmo tire and was a bit nervous as I could not find that many reviews on line. I tell you, I left there in winter conditions, drove all over the city testing the traction, braking, taking fast corners, parking lots with 8 inches of snow, and these tires stuck like glue. I was Giddy, like a kid, slamming on the brakes, trying to get these tires to fail, I couldnt believe it. If this all weather is this good I can only imagine why people put on winter tires. Snow became slush and loads of water, tires were solid, no slipping what so ever. I have driven them on the dry highway, fairly quiet, going on an 800 km trip this weekend so we will see. So far, love the tires and even if I only get 50k kms out of these I will be happy just for the safety. As one writer posted on another site, if I have one accident because of stupid tires, that 1000 dollar deductable just paid for annice set of tires. Buy these, you will not be disappointed. Happy Driving.

Toyota
(235/55 R18 V) on
mostly country roads
for 10,000
spirited
miles
Bought as a set for my RAV 4, I use them as I need a decent all season tyre whilst driving from the UK to Germany (where winter tyres are mandatory between October & March) but without having change them as they are all seasons.- have used them before and definitely will once these need replacing.
Have you driven on the Kumho Solus HA31 tyre?
Have YOU got experience with the Kumho Solus HA31? Help millions of other tyre buyers
Latest Kumho Solus HA31 Reviews
Given
91%
while driving a
Peugeot 107
(155/65 R14) on
a combination of roads
for 2,679
spirited
miles
Running these on a peugeot 107. I've had kumhos on larger cars before. For my daily commuter, I thought for the price I'd give the all seasons a go to avoid a second set of winter wheels again. Over the last month the snow has been heavy, over taking slow struggling cars has a breeze. They do feel soft when warm, but the cold weather and wet grip makes up for the warm short fall. The aggressive pattern does cause a slightly higher than normal road noise at 70mph. When these wear out, I'll be buying another set. For the price on a small car, I would definitely recommend them to anyone.
Decided I'd go for these on my winter wheels, I assumed they'd suit the UK better than an out and out winter tyre more suited towards ice, slush and snow capability, (to the detriment of motorway/fast road performance, most of my driving). Wasn't overly impressed last year to be honest but they did do everything reasonably well though.
Didn't have them on in the summer so can't comment, however I put them on a few months back for this winter, and in this recent weather they have been phenomenal!! Yes I drive a quattro, but I've been pulling out stranded cars, vans and even a lorry, the traction was unbelievable, these tyres never missed a beat, really REALLY impressed.
Yes I 'd say they maybe biased towards cold and wet weather performance (awesome in the snow) but they are more than capable of being a full on all year round tyre option, if you only have one set of rims and don't demand the performance required of a sports summer tyre.
Kia Motors
(165/60 R14) on
a combination of roads
for 500
average
miles
Used in heavy snow today, brilliant !
Average in wet and dry. Not had the chance to test on snow yet, but given the last few winters in the UK i think I'll go back to a summer tyre or the CrossClimate next.

Meant to be very good in the snow.