The Nokian Hakka Black is a Max Performance Summer tyre designed to be fitted to Passenger Cars.
This tyre has been replaced by the Nokian Hakka Black 2.
Tyre Reviews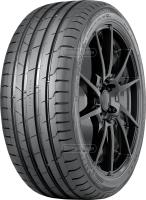 Tyre review data from 2 tyre reviews averaging 59% over 21,000 miles driven.
The Hakka Black is unranked of 62 Summer Max Performance tyres.
Latest Tyre Test Results
2017 Summer SUV Tyre Test - 2nd of 5 tyres
Positive - Short braking distances, excellent handling and overall the best results in the wet, good handling on dry surfaces, quick steering response and predictable behaviour at the limit of grip in all conditions
Negative - Worst fuel economy, most expensive tyre on test
View Full Test >>
2016 Test World Performance Tyre Test - 2nd of 13 tyres
Positive - Consistently good results in all the tests on wet roads
Negative - Slightly weak handling on dry roads
View Full Test >>
2013 Auto Review Performance Summer Tyre Test - 8th of 9 tyres
Positive - Grip on wet and dry roads, handling on wet and dry roads, comfort
Negative - Low resistance to aquaplaning
Overall - Average aquaplaning results, but otherwise the Nokian Hakka Black is little inferior to the leaders of the test. On wet roads the car starts to slide smoothly and always predictable. The same can be said about the handling on dry roads. Good tyres, but better to avoid deep puddles.
View Full Test >>
Sorry, we don't currently have any label data for the Nokian Hakka Black
Sorry, we don't currently have any questions and answers for the Nokian Hakka Black. Why not submit a question to our tyre experts using the form below!
Ask a question
We will never publish or share your email address
Have you driven on the Nokian Hakka Black tyre?
Have YOU got experience with the Nokian Hakka Black? Help millions of other tyre buyers
Latest Nokian Hakka Black Reviews
Tires are soft. Very well keep the road at low temperatures. However, at an air temperature of more than +25 C, a rather rapid wear begins with an active ride. Sidewall holds the blows well. Four times wheels fell into pits up to 5 cm at a speed of 60-80 km / h - the hernia was not formed. Of the disadvantages - sensitive to rutting.
2 out of 4 tires was "more oval than round". Visible to the naked eye for anyone, including a couple of mechanics at two different workshops. Nokian on the other hand claimed they were perfect and wouldn't replace them under warranty. Seller replaced them without Nokian's backing.

The tires are rock hard, noisy, creates a bumpy and uncomfortable ride. Even in a Mercedes E-class with new suspension and wheels the tires causes lots of vibration both in low and higher speeds, and makes the car jump around with small constant jumps unless the tarmac is completely perfect.
A Nokian representative uses some fancy measuring devices and concluded the tires was perfect so this type of behavior from the tires was how things was supposed to be.

I've had more noisy tires before, like the Toyo T1 model. But nothing as uncomfortable and horrible to drive as these Nokian Hakka Black.