The Nokian Hakka Green is a Premium Touring Summer tyre designed to be fitted to Passenger Cars.
Tyre Reviews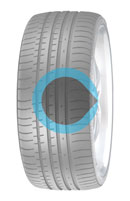 Sorry, we don't currently have any label data for the Nokian Hakka Green
Sorry, we don't currently have any questions and answers for the Nokian Hakka Green. Why not submit a question to our tyre experts using the form below!
Ask a question
We will never publish or share your email address
Have you driven on the Nokian Hakka Green tyre?
Have YOU got experience with the Nokian Hakka Green? Help millions of other tyre buyers
Latest Nokian Hakka Green Reviews
Good grip in all conditions. Saves fuel. Probably tread will last for some while. Bought it for a Ford Transit Connect Van -14. Carcass of the tyre seems weak: beware curbs and potholes. When even half loaded becomes unstable wants to be compensated with tyre pressure and then tire becoming just too hard to drive. Had it for two weeks and had to return to the supplier. Also its annoyingly noisy. Hakka Green 3 in this size is just a bad product, would not recommend.
Given
24%
while driving a
Audi A6
(205/60 R16 H) on
a combination of roads
for 15,000
average
miles
Do not buy these, or probably any other Nokian summer tyres either. They suck, mine wore completely out after 25.000 km, one sidewall exploded without any reason while driving on the highway. Wheel-alignment was checked 2 times during the two seasons I had them as I could not understand how fast they were wearing out, no adjustments needed. Pressure definitely as should have been. Awful tyres, hard, noisy, uncomfortable, constantly seeking in one direction or another. Pure waste of money. Do not trust any reviews by any magazine either regarding Nokian tyres, Nokian were cought cheating on tyre-tests two years back, supplying "special" tyres for all tests and had been doing it for atleast 14 years. Waste of money. Absolutely not a premium or even close to a mid-class tyre, I imagine Chinese brands make much better tyres. I switched to Tigars (Serbian Michelin budget -tyres) and they are nothing short of amazing good at half the price compared to these wastes of rubber-compound. AVOID A ALL COST!