The Sunny Wintermax NW611 is a Touring Winter tyre designed to be fitted to Passenger Cars.
Tyre Reviews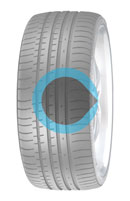 Sorry, we don't currently have any magazine tyre tests for the Sunny Wintermax NW611
Sorry, we don't currently have any label data for the Sunny Wintermax NW611
Sorry, we don't currently have any questions and answers for the Sunny Wintermax NW611. Why not submit a question to our tyre experts using the form below!
Ask a question
We will never publish or share your email address
Top 3 Sunny Wintermax NW611 Reviews
Given
96%
while driving a
Citroën berlingo
(225/45 R17) on
a combination of roads
for 3,000
average
miles
I bought these tyres for my Citroen Berlingo Multispace as I was about to tow the caravan for 8 weeks through England and Scotland - between November and December. Although I didn't realise it at the time they are rated XL, for Extra Load, ideal for the extra burden of the 'van. I bought them online and had them fitted at my local deal for £10 each, in total 4 tyres bought and fitted for just under £200.
The tread pattern looks rugged enough to deal with winter but it wasn't until they were fitted that I was able to appreciate how good they are. Living in North Wales there are enough hills, twisty roads and rain to test any tyre, and initial reaction was surprisingly good. They felt very competent on both dry and wet roads but wheel spin on hill starts was noticed with less than 100 miles of use, since scrubbing them in, this hasn't happened again. Towing the 'van was a revelation, the rear of the car seemed much firmer and overall feedback through the tyres was very positive, it was as if the rear suspension had been beefed up - I can only put this down to the XL rating and the stiffer tyre construction. The trip covered 2000 miles and the overall MPG for the towing and solo use of the car was 34mpg, slightly better than with previous tyres. Solo use since being back is just under 50mpg, which is about the same as usual.
In the wet, and there's been a lot of it at this end of 2015, is very encouraging. Driving through flooded roads and standing water has been uneventful, never any sign of aquaplaning. Grip has always been exceptionally good in wet and dry conditions so far but there was another area that really surprised me - these are budget price tyres that claim to be low on road noise - given the tread pattern and the cost - they REALLY are quiet, I've have never had such smooth, quiet and well behaved tyres as these. I was planning to keep these as winter only tyres and put summer tyres on later next year, but I may keep these on now and see how they cope as multi season ones. Tread wear so far is not evident.
I was hoping to comment on how good they are in the snow, but that is not happening in this abnormally warm December!!
Overall, if you're looking for a great all round winter tyre, give these a go.
Given
23%
while driving a
Skoda Octavia
(225/45 R17) on for 0 miles
sunny wintermax NW211. The worst tyres i ever had, please dont buy them if you dont want to crash... bought new from m...tyres. after changing tyres for those, whole car start floating, have wierd noise from wheels and i also accidently drifting on every roundabout... esp is flickering on dashboard all the time.
Have you driven on the Sunny Wintermax NW611 tyre?
Have YOU got experience with the Sunny Wintermax NW611? Help millions of other tyre buyers
Latest Sunny Wintermax NW611 Reviews