Syron Premium Performance
The Syron Premium Performance is a High Performance Summer tyre designed to be fitted to Passenger Cars.
Tyre Reviews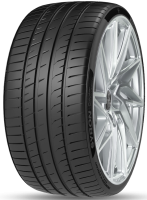 Sorry, we don't currently have any label data for the Syron Premium Performance
Sorry, we don't currently have any questions and answers for the Syron Premium Performance. Why not submit a question to our tyre experts using the form below!
Ask a question
We will never publish or share your email address
Have you driven on the Syron Premium Performance tyre?
Have YOU got experience with the Syron Premium Performance? Help millions of other tyre buyers
Latest Syron Premium Performance Reviews
Given
47%
while driving a
BMW M2 Competition
(235/35 R19) on
mostly motorways
for 35,000
average
miles
I took those tyres on a race track day on Grobnik/Rijeka Croatia, they were overheating massively after 2-3 laps. Front pushed a lot, I had to deal with under-steer a lot. I went for tourist drives on Nordschleife/Nürburgring Germany. On the first day we had rain, shortly anything more than road legal driving pace (not on German Autobahn :) ) made the tyre act snappy and very hard to drive. Hardly any traction in straight or in the curves. Not so bad with aquaplaning though. Tyres are sort of OK for daily commuting. Wouldn't buy them, I've got them with vehicle.
Given
100%
while driving a
BMW 340 m sport
(270/30 R20) on
track
for 0
spirited
miles
Cant find better tyre , Price vs performance No difference compare to michelin,Bridgestone Better than toyo,falken