2011 Auto Bild Performance Winter Tyre Test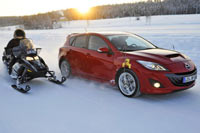 Auto Bild Performance, the German version of EVO magazine have put together the tyre test EVO should have. 7 wide 225/40 R18 tyres on a 260bhp Mazda 3 MPS.

On test are the usual premium brands, with only Bridgestone missing from the "big 6". Also included a midrange Hankook and a budget Rockstone.
Do budget winters work in the UK?
Perhaps the most interesting part of the test was the inclusion of a performance budget winter tyre. The UK, known as one of the largest buyers of budget tyres, has been importing budget winter tyres in masses this year. With the UK winters being appropriately 40% dry, 45% wet and 15% snow, seriously sacrificing wet weather performance for snow performance would be an oversight, yet that's exactly what this test shows with the Rockstone getting the lowest possible wet performance score.
While not all budgets are equal, it's important to do research when considering any tyre to ensure you get balanced performance.
Results
Total: 24
Dry: 7
Wet: 8
Snow: 9

Excellent winter tyres with dynamic handling characteristics. Highest safety reserves in aquaplaning, with short braking distances on both wet and dry roads.


Read Reviews

Total: 23
Dry: 7
Wet: 7
Snow: 9

Top winter tyres with excellent traction and shortest braking distances on snow covered slopes. Stable cornering with safe driving characteristics. Excellent aquaplaning properties


Read Reviews

Total: 21
Dry: 7
Wet: 7
Snow: 7

Balanced sports winter tyre. Stable cornering and safe qualities on snow, excellent steering precision with good dynamic response and handling


Read Reviews

Total: 21
Dry: 7
Wet: 7
Snow: 7

Sport handling qualities on wet and dry track, short braking distance and pleasant ride comfort

Understeer on snow, only average aquaplaning result


Read Reviews Buy from £132.99

Total: 21
Dry: 7
Wet: 6
Snow: 8

Impressive handling qualities on snow, good stering precision and short braking distances on dry roads

Slightly longer braking distances on wet roads and a high rolling resistance


Read Reviews

Total: 18
Dry: 8
Wet: 4
Snow: 6

Good on snow, high steering precision and cornering stability on dry roads. Low rolling resistance

Understeer and long braking in the wet, average aquaplaning results


Read Reviews

Total: 18.1
Dry: 8
Wet: 0.1
Snow: 10

Good snow performance

Perhaps the perfect example of why budget winter tyres struggle in the UK climate. While this tyre was excellent in the snow it was rated dangerous in the wet with massive braking distances and terrible aquaplaning properties. Overall Autobild called the tyre "defective"!


Read Reviews