2023 Sport Auto UHP Tyre Test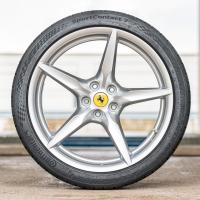 The 2023 Sport Auto summer tyre test has set out to discover what the best UHP summer tyre is by testing eleven summer tyres in the popular 225/40 R18 size using an Audi S3.
Once again the Continental SportContact 7 won the test with a strong performance in the dry and wet, with the Goodyear Eagle F1 Asymmetric 6 close behind in second place and the Michelin Pilot Sport 4S in third place.
There seems to be a running theme in 2023 tyre testing, and that is the SportContact 7 and Asymmetric 6 are incredible tyres!
Wet
The new Goodyear Eagle F1 Asymmetric 6 proved to have a small advantage over the Continental SportContact 7 during the wet braking test. The new Firestone Firehawk Sport also performed well, with the Pirelli P Zero PZ4 performing oddly poorly compared to its recent run of impressive test results.
The Bridgestone Potenza Sport took its usual spot at the top of wet handling, with the Continental and Pirelli close behind.
The new Falken FK520, Giti GitiSportS2 and Michelin Pilot Sport 4S all joint won the straight aquaplaning test. Curved aquaplaning can be found in the overall results at the base of the page.
Dry
The Continental and Goodyear were back at the front for dry braking.
And the Continental also narrowly beat the Bridgestone Potenza Sport for the fastest lap around dry handling.
Environment
The Kumho Ecsta PS91 was the quietest tyre in the external noise drive by test.
The Firestone had an impressively low rolling resistance, with the Bridgestone having an impressive high one!
At usual, the Michelin tyre was the most expensive on test.
Results
225/40 R18 92Y
EU Label: C/A/72
Weight: 9.76kgs
Tread: 5.8mm

| Test | # | Result | Best | Difference | % |
| --- | --- | --- | --- | --- | --- |
| Dry Braking | 1st | 33.7 M | | | 100% |
| Dry Handling | 1st | 101.8 Km/H | | | 100% |
| Wet Braking | 2nd | 24.1 M | 23.8 M | +0.3 M | 98.76% |
| Wet Handling | 2nd | 87.5 Km/H | 88.7 Km/H | -1.2 Km/H | 98.65% |
| Wet Circle | 2nd | 8.58 m/s | 8.81 m/s | -0.23 m/s | 97.39% |
| Straight Aqua | 4th | 80.1 Km/H | 80.6 Km/H | -0.5 Km/H | 99.38% |
| Curved Aquaplaning | 8th | 3.37 m/sec2 | 3.63 m/sec2 | -0.26 m/sec2 | 92.84% |
| Noise | 11th | 73.3 dB | 69.7 dB | +3.6 dB | 95.09% |
| Price | 8th | 112 | 84 | +28 | 75% |
| Rolling Resistance | 2nd | 8.2 kg / t | 7.1 kg / t | +1.1 kg / t | 86.59% |

Very balanced handling and short braking distances in the wet. Very high level of grip when braking and cornering in the dry, very stable, fast handling.

Cornering grip in the wet not quite at the top level, increased pass-by noise.

High grip level and best driving safety in wet and dry conditions for the Continental SC7.


Read Reviews Buy from £89.94

225/40 R18 92Y
EU Label: C/A/70
Weight: 9.75kgs
Tread: 6.4mm

| Test | # | Result | Best | Difference | % |
| --- | --- | --- | --- | --- | --- |
| Dry Braking | 2nd | 33.8 M | 33.7 M | +0.1 M | 99.7% |
| Dry Handling | 4th | 100.6 Km/H | 101.8 Km/H | -1.2 Km/H | 98.82% |
| Wet Braking | 1st | 23.8 M | | | 100% |
| Wet Handling | 4th | 86.4 Km/H | 88.7 Km/H | -2.3 Km/H | 97.41% |
| Wet Circle | 4th | 8.52 m/s | 8.81 m/s | -0.29 m/s | 96.71% |
| Straight Aqua | 11th | 79.1 Km/H | 80.6 Km/H | -1.5 Km/H | 98.14% |
| Curved Aquaplaning | 6th | 3.38 m/sec2 | 3.63 m/sec2 | -0.25 m/sec2 | 93.11% |
| Noise | 3rd | 70.9 dB | 69.7 dB | +1.2 dB | 98.31% |
| Price | 4th | 103 | 84 | +19 | 81.55% |
| Rolling Resistance | 3rd | 8.3 kg / t | 7.1 kg / t | +1.2 kg / t | 85.54% |

Shortest braking distances, best balance, very safe and wide limit in the wet. Strong braking, quick steering and high driving safety in the dry.

Cornering grip not at top level in wet conditions.

The EF1A6 is particularly strong on a dry track, top braking.


Read Reviews Buy from £88.29

225/40 R18 92Y
EU Label: D/A/72
Weight: 10.03kgs
Tread: 7.24mm

| Test | # | Result | Best | Difference | % |
| --- | --- | --- | --- | --- | --- |
| Dry Braking | 3rd | 33.9 M | 33.7 M | +0.2 M | 99.41% |
| Dry Handling | 4th | 100.6 Km/H | 101.8 Km/H | -1.2 Km/H | 98.82% |
| Wet Braking | 5th | 24.5 M | 23.8 M | +0.7 M | 97.14% |
| Wet Handling | 8th | 84.6 Km/H | 88.7 Km/H | -4.1 Km/H | 95.38% |
| Wet Circle | 7th | 8.46 m/s | 8.81 m/s | -0.35 m/s | 96.03% |
| Straight Aqua | 1st | 80.6 Km/H | | | 100% |
| Curved Aquaplaning | 1st | 3.63 m/sec2 | | | 100% |
| Noise | 10th | 72.1 dB | 69.7 dB | +2.4 dB | 96.67% |
| Price | 11th | 181 | 84 | +97 | 46.41% |
| Rolling Resistance | 9th | 9.6 kg / t | 7.1 kg / t | +2.5 kg / t | 73.96% |

Good wet braking, brilliant aquaplaning safety. Strong braking, great precision and very low sensitivity to load changes on a dry track.

Difficult balance in wet handling. Increased values in rolling resistance and tyre noise.

Top aquaplaning protection and strong in the dry for the Pilot Sport 4S, but slight deficits when wet.


Read Reviews Buy from £152.06

225/40 R18 92Y
EU Label: B/A/70
Weight: 9.44kgs
Tread: 6.5mm

| Test | # | Result | Best | Difference | % |
| --- | --- | --- | --- | --- | --- |
| Dry Braking | 7th | 34.5 M | 33.7 M | +0.8 M | 97.68% |
| Dry Handling | 3rd | 100.7 Km/H | 101.8 Km/H | -1.1 Km/H | 98.92% |
| Wet Braking | 3rd | 24.3 M | 23.8 M | +0.5 M | 97.94% |
| Wet Handling | 5th | 86.2 Km/H | 88.7 Km/H | -2.5 Km/H | 97.18% |
| Wet Circle | 6th | 8.48 m/s | 8.81 m/s | -0.33 m/s | 96.25% |
| Straight Aqua | 7th | 79.4 Km/H | 80.6 Km/H | -1.2 Km/H | 98.51% |
| Curved Aquaplaning | 9th | 3.19 m/sec2 | 3.63 m/sec2 | -0.44 m/sec2 | 87.88% |
| Noise | 6th | 71.3 dB | 69.7 dB | +1.6 dB | 97.76% |
| Price | 8th | 112 | 84 | +28 | 75% |
| Rolling Resistance | 1st | 7.1 kg / t | | | 100% |

Good wet braking, very reliable wet grip with very precise steering, stable. Very balanced, easily controllable driving characteristics dry, lowest rolling resistance.

Deficits in curved aquaplaning.

Strong performance for the new Firestone FireHawk Sport, lowest rolling resistance.


Read Reviews

225/40 R18 92Y
EU Label: C/B/71
Weight: 9.16kgs
Tread: 7.2mm

| Test | # | Result | Best | Difference | % |
| --- | --- | --- | --- | --- | --- |
| Dry Braking | 4th | 34.1 M | 33.7 M | +0.4 M | 98.83% |
| Dry Handling | 7th | 100.5 Km/H | 101.8 Km/H | -1.3 Km/H | 98.72% |
| Wet Braking | 11th | 26.6 M | 23.8 M | +2.8 M | 89.47% |
| Wet Handling | 3rd | 86.7 Km/H | 88.7 Km/H | -2 Km/H | 97.75% |
| Wet Circle | 3rd | 8.57 m/s | 8.81 m/s | -0.24 m/s | 97.28% |
| Straight Aqua | 5th | 79.9 Km/H | 80.6 Km/H | -0.7 Km/H | 99.13% |
| Curved Aquaplaning | 5th | 3.4 m/sec2 | 3.63 m/sec2 | -0.23 m/sec2 | 93.66% |
| Noise | 4th | 71.1 dB | 69.7 dB | +1.4 dB | 98.03% |
| Price | 7th | 111 | 84 | +27 | 75.68% |
| Rolling Resistance | 9th | 9.6 kg / t | 7.1 kg / t | +2.5 kg / t | 73.96% |

Very easy to control and steer with a balanced, slightly understeering balance in the wet. Very quick steering, high lateral support and sensitive balance when cornering.

Weak wet braking, increased rolling resistance.

Strong when dry. Weaknesses in wet braking for the PZ4.


Read Reviews

225/40 R18 92Y
EU Label: D/A/70
Weight: 10.3kgs
Tread: 6.43mm

| Test | # | Result | Best | Difference | % |
| --- | --- | --- | --- | --- | --- |
| Dry Braking | 9th | 35.2 M | 33.7 M | +1.5 M | 95.74% |
| Dry Handling | 2nd | 101.1 Km/H | 101.8 Km/H | -0.7 Km/H | 99.31% |
| Wet Braking | 10th | 25.4 M | 23.8 M | +1.6 M | 93.7% |
| Wet Handling | 1st | 88.7 Km/H | | | 100% |
| Wet Circle | 1st | 8.81 m/s | | | 100% |
| Straight Aqua | 9th | 79.3 Km/H | 80.6 Km/H | -1.3 Km/H | 98.39% |
| Curved Aquaplaning | 6th | 3.38 m/sec2 | 3.63 m/sec2 | -0.25 m/sec2 | 93.11% |
| Noise | 9th | 71.6 dB | 69.7 dB | +1.9 dB | 97.35% |
| Price | 10th | 114 | 84 | +30 | 73.68% |
| Rolling Resistance | 11th | 10.2 kg / t | 7.1 kg / t | +3.1 kg / t | 69.61% |

Razor-sharp wet handling with high cornering. Safe, active handling on dry roads.

Longer braking distances at low temperatures and slightly rear-biased in the wet. Weak dry braking, highest rolling resistance in the test.

When the Bridgestone Potenza Sport is warm, it has very good grip in all directions.


Read Reviews Buy from £88.00

225/40 R18 92Y
EU Label: C/A/70
Weight: 10.02kgs
Tread: 7.2mm

| Test | # | Result | Best | Difference | % |
| --- | --- | --- | --- | --- | --- |
| Dry Braking | 9th | 35.2 M | 33.7 M | +1.5 M | 95.74% |
| Dry Handling | 4th | 100.6 Km/H | 101.8 Km/H | -1.2 Km/H | 98.82% |
| Wet Braking | 5th | 24.5 M | 23.8 M | +0.7 M | 97.14% |
| Wet Handling | 11th | 83.1 Km/H | 88.7 Km/H | -5.6 Km/H | 93.69% |
| Wet Circle | 10th | 8.3 m/s | 8.81 m/s | -0.51 m/s | 94.21% |
| Straight Aqua | 1st | 80.6 Km/H | | | 100% |
| Curved Aquaplaning | 4th | 3.47 m/sec2 | 3.63 m/sec2 | -0.16 m/sec2 | 95.59% |
| Noise | 6th | 71.3 dB | 69.7 dB | +1.6 dB | 97.76% |
| Price | 3rd | 96 | 84 | +12 | 87.5% |
| Rolling Resistance | 4th | 8.6 kg / t | 7.1 kg / t | +1.5 kg / t | 82.56% |

Good wet braking, safe aquaplaning properties. Safe but less dynamic cornering, best ride comfort.

Dull steering, somewhat indifferent balance in the wet. Less spontaneous steering and slightly longer braking distances when dry.

The new FK520 is comfortable, but steers sluggishly on wet roads.


Read Reviews

225/40 R18 92Y
EU Label: D/A/70
Weight: 9.86kgs
Tread: 7.2mm

| Test | # | Result | Best | Difference | % |
| --- | --- | --- | --- | --- | --- |
| Dry Braking | 5th | 34.4 M | 33.7 M | +0.7 M | 97.97% |
| Dry Handling | 10th | 100 Km/H | 101.8 Km/H | -1.8 Km/H | 98.23% |
| Wet Braking | 9th | 25.2 M | 23.8 M | +1.4 M | 94.44% |
| Wet Handling | 7th | 84.8 Km/H | 88.7 Km/H | -3.9 Km/H | 95.6% |
| Wet Circle | 9th | 8.38 m/s | 8.81 m/s | -0.43 m/s | 95.12% |
| Straight Aqua | 7th | 79.4 Km/H | 80.6 Km/H | -1.2 Km/H | 98.51% |
| Curved Aquaplaning | 3rd | 3.52 m/sec2 | 3.63 m/sec2 | -0.11 m/sec2 | 96.97% |
| Noise | 1st | 69.7 dB | | | 100% |
| Price | 4th | 103 | 84 | +19 | 81.55% |
| Rolling Resistance | 8th | 9.5 kg / t | 7.1 kg / t | +2.4 kg / t | 74.74% |

Decent water drainage, acceptable cornering grip and low load change reactions in the wet. Good deceleration values on dry roads, very quiet passing noise.

Longer braking distances and significant understeer in the wet. Sluggish steering, increased rolling resistance.

The PS91 is a quiet tyre but has weaknesses in wet and dry grip.


Read Reviews

225/40 R18 92Y
EU Label: C/A/72
Weight: 8.97kgs
Tread: 7.32mm

| Test | # | Result | Best | Difference | % |
| --- | --- | --- | --- | --- | --- |
| Dry Braking | 5th | 34.4 M | 33.7 M | +0.7 M | 97.97% |
| Dry Handling | 9th | 100.1 Km/H | 101.8 Km/H | -1.7 Km/H | 98.33% |
| Wet Braking | 4th | 24.4 M | 23.8 M | +0.6 M | 97.54% |
| Wet Handling | 6th | 85.8 Km/H | 88.7 Km/H | -2.9 Km/H | 96.73% |
| Wet Circle | 5th | 8.49 m/s | 8.81 m/s | -0.32 m/s | 96.37% |
| Straight Aqua | 6th | 79.8 Km/H | 80.6 Km/H | -0.8 Km/H | 99.01% |
| Curved Aquaplaning | 9th | 3.19 m/sec2 | 3.63 m/sec2 | -0.44 m/sec2 | 87.88% |
| Noise | 6th | 71.3 dB | 69.7 dB | +1.6 dB | 97.76% |
| Price | 2nd | 89 | 84 | +5 | 94.38% |
| Rolling Resistance | 7th | 9 kg / t | 7.1 kg / t | +1.9 kg / t | 78.89% |

Good wet braking, easily controllable, tends to understeer in the wet and dry.

Low curve aquaplaning resistance, cornering grip decreases with longer loads.

The VS5 has safe braking and good grip level in wet and dry corners.


Read Reviews

225/40 R18 92Y
EU Label: D/A/70
Weight: 8.79kgs
Tread: 7.93mm

| Test | # | Result | Best | Difference | % |
| --- | --- | --- | --- | --- | --- |
| Dry Braking | 11th | 35.4 M | 33.7 M | +1.7 M | 95.2% |
| Dry Handling | 8th | 100.4 Km/H | 101.8 Km/H | -1.4 Km/H | 98.62% |
| Wet Braking | 8th | 24.8 M | 23.8 M | +1 M | 95.97% |
| Wet Handling | 9th | 84.4 Km/H | 88.7 Km/H | -4.3 Km/H | 95.15% |
| Wet Circle | 7th | 8.46 m/s | 8.81 m/s | -0.35 m/s | 96.03% |
| Straight Aqua | 1st | 80.6 Km/H | | | 100% |
| Curved Aquaplaning | 1st | 3.63 m/sec2 | | | 100% |
| Noise | 4th | 71.1 dB | 69.7 dB | +1.4 dB | 98.03% |
| Price | 6th | 110 | 84 | +26 | 76.36% |
| Rolling Resistance | 5th | 8.9 kg / t | 7.1 kg / t | +1.8 kg / t | 79.78% |

Objectively good wet properties, best aquaplaning safety.

When moving dynamically, there is a lack of steering precision and response in the wet. Comparatively long braking distances and unbalanced handling on dry roads.

The Giti SportS2 has superior aquaplaning protection but is sluggish when turning in the dry.


Read Reviews

225/40 R18 92Y
EU Label: C/B/72
Weight: 9.42kgs
Tread: 7.39mm

| Test | # | Result | Best | Difference | % |
| --- | --- | --- | --- | --- | --- |
| Dry Braking | 8th | 35.1 M | 33.7 M | +1.4 M | 96.01% |
| Dry Handling | 11th | 99 Km/H | 101.8 Km/H | -2.8 Km/H | 97.25% |
| Wet Braking | 7th | 24.6 M | 23.8 M | +0.8 M | 96.75% |
| Wet Handling | 10th | 83.5 Km/H | 88.7 Km/H | -5.2 Km/H | 94.14% |
| Wet Circle | 11th | 8.28 m/s | 8.81 m/s | -0.53 m/s | 93.98% |
| Straight Aqua | 10th | 79.2 Km/H | 80.6 Km/H | -1.4 Km/H | 98.26% |
| Curved Aquaplaning | 11th | 3.09 m/sec2 | 3.63 m/sec2 | -0.54 m/sec2 | 85.12% |
| Noise | 2nd | 70.2 dB | 69.7 dB | +0.5 dB | 99.29% |
| Price | 1st | 84 | | | 100% |
| Rolling Resistance | 5th | 8.9 kg / t | 7.1 kg / t | +1.8 kg / t | 79.78% |

Good wet braking, decent longitudinal aquaplaning. Quiet pass-by noise.

Very sluggish steering and high levels of understeer in the wet. Long braking distances and less dynamic handling on a dry track.

The N`Fera Sport SU2 brakes properly when wet, otherwise rather low level of grip.


Read Reviews