The GitiSport S2 has been designed to deliver a 5% improvement in wet and dry braking and handling plus a 14% increase in aquaplaning resistance against the previous model. The tyre will also deliver around 10% more mileage dependent upon driving characteristics.
This tyre replaced the Giti GitiSport S1.
Tyre Reviews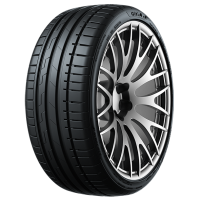 Tyre review data from 3 tyre reviews averaging 90% over 11,200 miles driven.
The GitiSportS2 is ranked 2nd of 136 Summer Ultra High Performance tyres.
Latest Tyre Test Results
2022 Tyre Reviews 17 Inch Summer Tyre Test - 8th of 9 tyres
Positive - Good dry handling, very good aquaplaning resistance, low noise, good rolling resistance.
Negative - Long wet and dry braking distances, lower levels of grip during wet handling.
Overall - The Giti GitiSport S2 is an enjoyable tyre to drive, with a good blend of comfort and handling, however it needs to improve its grip in the wet, especially wet braking to move up the order.
View Full Test >>
Sorry, we don't currently have any label data for the Giti GitiSportS2
Sorry, we don't currently have any questions and answers for the Giti GitiSportS2. Why not submit a question to our tyre experts using the form below!
Ask a question
We will never publish or share your email address
YouTube Review
Top 3 Giti GitiSportS2 Reviews
Given
90%
while driving a
Mazda 3 Skyactiv 2018
(225/45 R17) on
a combination of roads
for 1,000
average
miles
Fitted GitiSport S2 on my Mazda 3 2018 model (BM) with 18 inch rim of size 225/45R18. Previously was using 205/60R16 and was expecting comfort to decrease however after fitted on GitiSport S2, the comfort did not really decrease, it was almost the same comfort as my 16 inch size. Most tire dry grip has no issue, tested on raining days with GitiSport S2 and turned aggressively and no slippage on road or on pavement surface. Tried going on highway with lots of water puddle, cutting through water easily at speed of 70km/hr to 80km/hr, good aquaplanning. Price for GitiSport S2 are 50% cheaper than all premium brands and model. Guess i will stick to GitiSport S2 after this set wears off, most value for price with superior performance.
Given
89%
while driving a
Volvo V60 T6 AWD
(235/40 R19) on
mostly motorways
for 10,000
spirited
miles
Replaced the original Primacy 4 VOL with this set of new Gitis. So far very happy with the choice. Very comfortable and quite tyres, no noticeable difference with the Michelin. Dry handling gives confidence and even in heavy rain the tyre seems to well. The only negative point would be that the rim protector seems quite small and don't think it would do a good job. All things considered, and especially the low price point, these are a great choice and value for money! Recommended!
Can't believe how good the car changed . More quiet comfortable. Felt confident in heavy rain . As good as continent's I've had on previous cars . Best choice . The maxxis I took off half worn at most but inner wall ready to blow on one tyre . Extremely noisy
Have you driven on the Giti GitiSportS2 tyre?
Have YOU got experience with the Giti GitiSportS2? Help millions of other tyre buyers
Latest Giti GitiSportS2 Reviews