The Dunlop SP5000 is a High Performance Summer tyre designed to be fitted to Passenger Cars.
Tyre Reviews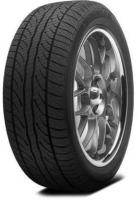 Sorry, we don't currently have any magazine tyre tests for the Dunlop SP5000
| Size | Fuel | Wet | Noise | Weight |
| --- | --- | --- | --- | --- |
| 275/55 R17 109V | F | E | 72 | 16.10kgs |
Questions and Answers for the Dunlop SP5000
2016-10-28 - The Sport 5000 tire goods for winter & snow driving ? What the A temp rating mean on those Sport 5000 tire .
The Dunlop SP5000 is an American all season tyre. It has some winter capabilities, but a full winter tyre will perform better during winter and snow driving.
---
Ask a question
We will never publish or share your email address
Have you driven on the Dunlop SP5000 tyre?
Have YOU got experience with the Dunlop SP5000? Help millions of other tyre buyers
Latest Dunlop SP5000 Reviews
Given
89%
while driving a
Mercedes Benz ML
(255/60 R17) on
mostly town
for 37,000
average
miles
The Dunlops were the best tyre I've used so far, lasting 60,000 km/5 yrs and with enough tread to go another 1-2 years or more. Amazing durability. Would definitely have bought again but they are no longer made in the correct size, but if you can find some old stock, you will not regret snapping them up.

Couldn't say the same for the Pirelli Scorpion Zeros I had before them, that were worn out after 5 years/60,000 km. The Continental SportContacts that it rolled out of the factory on were gone after 2.5 years (40,000 km) - terrible value.
Given
94%
while driving a
Mercedes Benz ML
(225/45 R17) on
a combination of roads
for 2,000
easy going
miles
I've just spent the last 10 days driving across Europe and back and through the Krokonose mountain range in CZ Republic, through horrendous rain conditions, and heavy sleet, snow and ice and had no trouble at all. Maybe its the 4x4 car that the tyres are fitted to but the car felt totally safe at all times. This is not the first year I've been driving across Europe in the winter but with SP 5000's I've never felt the need to upgrade to a dedicated winter tyre and have only used low gear once and that was on sheet ice going down hill. Tremendous tyres in all weather.