Falken is expanding its Ultra High Performance (UHP) range of tyres by making its flagship AZENIS FK510 available as a SUV tyre from 2017. The new addition to Falken's product line-up reflects the growth of the SUV market and continues the tyre manufacturer's strategy of supplying an extensive range of products in profitable and high-growth segments.
A new, innovative casing design on the the AZENIS FK510 SUV ensures precise handling behavior, especially in cases of sudden load shifts while driving. The more circular casing profile increases the flexibility of the side wall, which results in a high degree of driving comfort and more balanced overall driving characteristics. Just like the car model of the tyre, the AZENIS FK510 SUV has 'blade sipes' to reduce instances of aquaplaning. Several small incisions in the tread bar optimises the contact area of the tyre when steering and allows more efficient penetration of standing water on the road.
Tyre Reviews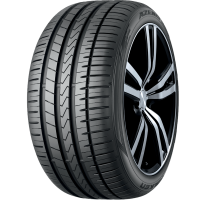 Tyre review data from 6 tyre reviews averaging 76% over 31,717 miles driven.
The FK510 SUV is ranked 14th of 27 Summer Ultra High Performance tyres.
Latest Tyre Test Results
2022 AutoBild SUV 4x4 Summer Tyre Test - 3rd of 11 tyres
Positive - Good tyres with convincing driving characteristics on wet and dry roads, dynamic handling, precise steering behavior, short braking distances.
Negative - Moderate mud traction, high rolling resistance.
View Full Test >>
2021 Camper Van / SUV Tyre Test - 3rd of 8 tyres
Positive - Very high safety reserves when cornering on wet and dry roads, quiet noise to the outside as well as the interior.
Negative - Weaknesses when when changing lanes quickly, sluggish steering responses.
Overall - Low-priced newcomer with excellent wet grip.
View Full Test >>
2020 Gute Fahrt SUV Summer Tyre Test - 3rd of 8 tyres
Positive - Good handling in all conditions.
Negative - High rolling resistance.
Overall - Very good - Like Hankook, Falken are moving away from the second tier brands and into the premium category.
View Full Test >>
2022 Tyre Tests

2021 Tyre Tests

2020 Tyre Tests

2019 Tyre Tests
| Size | Fuel | Wet | Noise | Weight |
| --- | --- | --- | --- | --- |
| 235/50 R18 101Y XL | C | A | 70 | |
Sorry, we don't currently have any questions and answers for the Falken FK510 SUV. Why not submit a question to our tyre experts using the form below!
Ask a question
We will never publish or share your email address
Top 3 Falken FK510 SUV Reviews
Brought these tyres to replace the original Continentals, didn't really need the W speed rating but for the price and what I have heard of Falken tyres I thought I would give them ago, and so far well pleased. just a bit concerned about how they will wear as they are a more rounded tyre and I have my tyre pressure set at the lower limit for comfort rather than the eco pressure so they may wear a lot more on the edge than the Continentals.
Falken Azenis FK510 SUV 215/55 R18 W (99) Reinforced
Volvo
(235/60 R18) on
a combination of roads
for 6,000
spirited
miles
Dry handling is better than the Michelins I removed, also quieter ! wet Handling & change of direction is better, with better feed back, also less movement from the rear (xc60 D4 2wd) as i do chuck it about more than most ....... Mpg has gone down by about 4/5mpg ....which is a tad pants.... as the everything else is very impressive. looking at sticking a set on my Focus also
Given
42%
while driving a
Lexus Rx450h
(225/45 R17) on
a combination of roads
for 4,000
spirited
miles
I find these tyres very poor, and the slightest hint of moisture seems to make them slip. They came with my 'new' (used) car and I will be replacing them as soon as I can.
Have you driven on the Falken FK510 SUV tyre?
Have YOU got experience with the Falken FK510 SUV? Help millions of other tyre buyers
Latest Falken FK510 SUV Reviews
Modified Volvo XC90, so this may affect perception (lifted 30mm front & rear, ET27 8x18 alloys instead of stock ET49 7x18, meaning increased scrub radius and edge wear). Very good control of the boat (sic), sidewalls softer than average, tyre just looks better than same size winters, compliant, comfortable, and silent ride. Each spring was a relief fitting them back on after months with rigid and loud Hankook winters (never again). Inflated properly, and with wheel alignment in order, wear on these Falkens is quite decent, too, total life maybe 25k on this vehicle but this is (was) a 2.5 ton modified pile of iron driven ruthlessly (hours of 100mph on German Autobahn each way, on bad roads / among worse motorists in Europe, sometimes in 38 deg C, etc).