The new GitiWinter W2 has reached the aftermarket, delivering improved dry dynamics, wet braking and aquaplaning resistance all while maintaining the original tyre's excellent snow and ice grip and traction. Initially available in 13 passenger car and SUV sizes, 10 of which represent the most popular in the European market, rims range from 15"-19", section widths from 175-255, series sizes from 40-65 and speed indices range from T-V. More sizes will be introduced in 2022 to complete the product offer.
This tyre replaced the Giti GitiWinterW1.
Tyre Reviews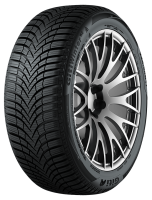 Sorry, we don't currently have any label data for the Giti GitiWinterW2
Sorry, we don't currently have any questions and answers for the Giti GitiWinterW2. Why not submit a question to our tyre experts using the form below!
Ask a question
We will never publish or share your email address
Have you driven on the Giti GitiWinterW2 tyre?
Unfortunately we don't yet have any tyre reviews of the Giti GitiWinterW2 but people are searching for information on it.
Please help millions of other drivers make an informed tyre choice and pick the correct tyres for their car by submitting your review of the GitiWinterW2.