The Giti GitiWinterW1 is a Touring Winter tyre designed to be fitted to Passenger Cars.
This tyre has been replaced by the Giti GitiWinterW2.
Tyre Reviews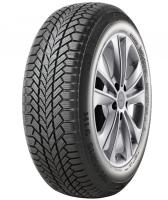 2020 Tyre Tests

2019 Tyre Tests

2018 Tyre Tests
Sorry, we don't currently have any label data for the Giti GitiWinterW1
Sorry, we don't currently have any questions and answers for the Giti GitiWinterW1. Why not submit a question to our tyre experts using the form below!
Ask a question
We will never publish or share your email address
Have you driven on the Giti GitiWinterW1 tyre?
Have YOU got experience with the Giti GitiWinterW1? Help millions of other tyre buyers
Latest Giti GitiWinterW1 Reviews
Given
75%
while driving a
BMW 330i
(235/45 R18 V) on
mostly motorways
for 7,000
spirited
miles
I have a new set of W1 on my car, first winter, driven mostly on wet road and one vacation in France. The tyres are very nice and quiet on dry roads. On wet they lacking some grip especially at high speed. Mileage is difficult to judge. the car has 9.000 km (of which 7,000 with winter tyres) and they are still like new. During ski holidays in france had the chance to try them in actual snow and they were fenomenal. high grip, even on very slippery hills, confident turns and fast decelerations. Had real pleasure dring the car!
Given
89%
while driving a
Audi A5
(225/45 R17) on
mostly motorways
for 20,000
average
miles
Initially hesitant seing the " made in chin", but decided to try it as it was engineered in europe (germany), and the good price.
Excellent on wet road. Only very basic test on snow ( but seemed very grippy). Quiet and stable at high speed.
A very nice surprise.