The MRF ZLX is a Touring Summer tyre designed to be fitted to Passenger Cars.
Tyre Reviews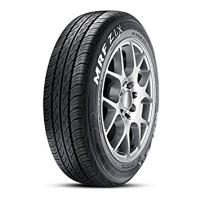 Sorry, we don't currently have any magazine tyre tests for the MRF ZLX
Sorry, we don't currently have any label data for the MRF ZLX
Sorry, we don't currently have any questions and answers for the MRF ZLX. Why not submit a question to our tyre experts using the form below!
Ask a question
We will never publish or share your email address
Have you driven on the MRF ZLX tyre?
Have YOU got experience with the MRF ZLX? Help millions of other tyre buyers
Latest MRF ZLX Reviews
Given
99%
while driving a
Hyundai I10
(155/80 R13 T) on
mostly country roads
for 32,000
average
miles
I have replaced MRF ZEC company fitted tyres for my Hyundai I-10 sportz 1.2 car with MRF ZLX. The tyres have crossed 55k mark recently and now I think to change two out of them.

Definitely it is as good as for both wet or dry surface. Only thing to worry is it is pro puncture tyre means get punctured. My experience may be caused due to rough condition of roads in my locality.

As for as service after sell is quite good and I have got a new tyre from the company under it s policy of changing tyre due to technical fault.

However 55k mark is enough to consider the company again.

RAJESH KASHYAP
Given
10%
while driving a
Hyundai
(180/55 R17) on
mostly town
for 500
average
miles
My last Apollo Tyres were lasted for 7 and half years, after looking at the condition I decided to go for best Indian brand. I was hoping for best but my experience was worst. Eventually it started with dealer it self , they were not at user friendly, still I gone and purchased Tyres , and within two weeks of purchase I observed side cut, I visited delear , but he simply refused to listen saying that Its not covered in warranty without giving proper explanation. This experience was definitely discourage one , I will definitely like to not encourage anybody to go for MRF Tyres..