The Matador MP 92 Sibir Snow is a Touring Winter tyre designed to be fitted to SUV and 4x4s.
Tyre Reviews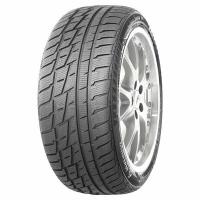 2021 Tyre Tests

2019 Tyre Tests

2018 Tyre Tests

2016 Tyre Tests

2015 Tyre Tests

2014 Tyre Tests
Sorry, we don't currently have any label data for the Matador MP 92 Sibir Snow
Sorry, we don't currently have any questions and answers for the Matador MP 92 Sibir Snow. Why not submit a question to our tyre experts using the form below!
Ask a question
We will never publish or share your email address
Top 3 Matador MP 92 Sibir Snow Reviews
Normally I take only premium brands, Matador chosen first time after my friend checked them on his car and persuaded me to buy.Tested on Suzuki SX4 for one winter season in Bosnia and Herzegowina.Very able in deep fresh snow, surprisingly good traction and braking. Good handling on dry surfaces, very good on wet asphalt during braking, predictible behavior.Much less noisy than some premium winter tyres I had last 20 years. For one season which was not so snowy in Bosnia there are hardly any signs of wear (I took off them early as spring came very early) during 5000km milleage on them. All in all - a bargain as I see no week point during the use but the price i so good.
Given
86%
while driving a
Opel Insignia B
(235/50 R18 V) on
a combination of roads
for 5,000
average
miles
This is my first set of Matador tyres and even though I was a little afraid since it is a cheaper brand within Continental company I am very satisfied. In the summer I use the same size Continental SportContact 5 in standard load version. These winter Matador tyres came in extra load version. The differece in the comfort is not noticeable. Also in comparison to summer Continental the noise is not higher.
In the wet they feel very safe even at motorway speeds. in sharper turns their grip is very good as well. Until now I have not experienced aquaplaning in any situation.
In the dry at higher temperatures (above 14-15 °C) the braking distance is longer and they feel soft but as soon as the temperature decreases below 10 °C it is much better.
The snow traction and braking is very good and the traction is reasonable even on moist/muddy forrest road.
Overall I am pleasantly surprised. Bearing in mind the price I was expecting much bigger difference in comparison to premium brands.
Given
95%
while driving a
Skoda Octavia vRS
(225/45 R17 V) on
mostly motorways
for 32,000
spirited
miles
these tyres were on my vrs when bought , I was unsure at first but after driving all winter on these I was very surprised how they performed . Shifted loads of water , handling in the wet super , coped as well in dry conditions through the summer . So much so I put the new hectoras on these were a bit noisy though ,. Would recommend the Subir snow for winter driving
Have you driven on the Matador MP 92 Sibir Snow tyre?
Have YOU got experience with the Matador MP 92 Sibir Snow? Help millions of other tyre buyers
Latest Matador MP 92 Sibir Snow Reviews
Given
81%
while driving a
Kia Motors Sportage
(235/55 R17 H) on
mostly motorways
for 7,000
average
miles
Not expensive tyres but great quality overall. Good on dry, satisfactory on wet . Not tested on ice but good on snow. Sidewalls a little bit soft. Very good ride comfort ( far better than optimo k415 ). Can't tell exactly about wear. I would buy it again.
Given
83%
while driving a
Volvo 744 Turbo
(185/65 R15) on
a combination of roads
for 3,000
spirited
miles
Overall excellent tires for the price. New tires are excelent on snow and wet condition roads. Also gives quite good feedback on ice. A little worn starts to slip more on ice, but are stil great on icy or frozen gravel roads. Wear is even anv haven't noticed any disbalance.
Given
80%
while driving a
Nissan X trail 2.5 LPG
(225/75 R16 T) on
mostly country roads
for 300
spirited
miles
Don`t know yet about wear, but on the black or white ice (compressed snow) and standard ice, tyre works good - 8/10 at braking. Same in the snow.
Torque and accelaration on the ice or compacted snow also very good.
Even with 2-wd it is about 8 from 10.

A bit less good is cornering on ice. Car tends to slip traight instead of turning.

In the mud tyre does not perform as well as Debica Frigo 2 - this was REALLY good tyre in all kinds of snow and ice and also in MUD.
If we compare with this tyre, Debica could fly as fast as 60 kph during slip track turn, while MP92 flew off the same track already at 30 kph...

But overall pretty satisfied with MP92 for winter conditions.

Waiting for lake ice to test in at full performance 4x4