Metzeler Sportec M5 Interact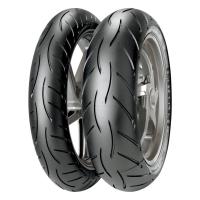 The Metzeler Sportec M5 Interact is a Ultra High Performance Summer tyre designed to be fitted to Motorcycle
Show All
Tyre review data from 6 tyre reviews averaging 72% over 26,500 miles driven.
Sorry, we don't currently have any magazine tyre tests for the Metzeler Sportec M5 Interact
Sorry, we don't currently have any label data for the Metzeler Sportec M5 Interact
Sorry, we don't currently have any questions and answers for the Metzeler Sportec M5 Interact. Why not submit a question to our tyre experts using the form below!
Ask a question
We will never publish or share your email address
Top Metzeler Sportec M5 Interact Review
Given
97%
while driving a
Yamaha R1
(190/50 R17) on
a combination of roads
for 4,000
spirited
miles
Best sport tyre Ive put on a sports bike , best wet grip from a sticky tyre , used to be a big fan of diablos until I tried these and the m5 does it all better than the diabo on my 7 th set of m5
Latest Metzeler Sportec M5 Interact Reviews
Have you driven on the Metzeler Sportec M5 Interact tyre?
Have YOU got experience with the Metzeler Sportec M5 Interact? Help millions of other tyre buyers
Given
87%
while driving a
Yamaha R1
(180/55 R17 W) on
a combination of roads
for 9,000
spirited
miles
Use on my r1 several time bcoz its cheaper then other n more mileage i guess. Still using now maybe 3rd or 4th. Daily ride shuttle to my office 100km daily. Ride quite fast from suburb to town via hiway n traffic jam. Ride 200+kmh on hiway. M5 stick good when lean n u will not waste the tire edge. White line will affect to your handing especially after several thousand miles used for center of tire. Edge quite good stick. But For me its quite good on hot day but just ok during wet/rainy day. Rear tyre spin some time on wet road when hi speed. But, Yea i guess m5 better mileage & price compared to contimotion i use before. Already stop using conti motion. Mm. Now im looking for other higher mileage n stick good when lean on hot day. ✌️
Wear out too quickly and defects These came with my new 2018 KTM Duke 390, the rear tire showed belts on the first season i used them at maybe a bit over 5000km, in the middle of a trip when i was in Gaspe, i was not happy. Changed it for a Bridgestone Batllax. 2nd season on the front and they are finished now. The front is also showing some weird bulges in areas (defect?) but the wear pattern overal looks even althouh tread is near finished. Also i always checked pressure levels as i do a lot of touring and wanted these tires to last but they simply do not. I have no idea how they get so many good reviews, but for me these were teriible! Maybe there's a difference with the ones that come from a OEM with the bike vs the ones you buy, don't know. Bottom line, they do offer grip but last a ridiculous short amount of time, i will never buy a set of Metzeler because of this and can not recommend them.
Given
33%
while driving a
BMW na
(120/70 R17 W) on
mostly country roads
for 1,500
spirited
miles
Fitted to a BMW K1300S just back from the Alps. The M5 Front tyre absolutely no grip in tight turns in the wet. Lots of 'pushing wide'. Very sensitive to broken surfaces. Rear tyre 190/55 ZR 17 spins up in the wet and on road lines. Carcass seems far too hard and stiff even for a heavy bike. Very bad for riding confidence - Avoid.
Given
87%
while driving a
Kawasaki ZX6R
(180/55 R17 W) on
a combination of roads
for 3,000 miles
I bought the bike with metzeler sportec M3s on the from and the rear, the tyres were nearly new, I've ridden the bike for 3.000 miles sinse I had bought it and the rear tyre 180 55 17 has 1.4m of treat left on the center and 2-4mil going to the edges the tyres grip has been excellent on corners and setting off, once or twice I have had very small wheel spin setting off very quickly but as quick as I set off they were gripping, even with 1.4mil left they still have superb grip I don't go out a lot in the wet but when I did I had no problems with these tyres although these tyres are the M3s they do not make them anymore I have recently bought an M5 for my bike, I am sure his review is relevant as it's still the same tyre only an upgraded pattern so the M5s should be just as good if not better than my M3s even having a passenger the bike grips excellent on bends and stopping, they are priced right for what they give I've no problems with this tyre.
Excellent tyre in wet and dry conditions, but they lasted only 8000km. That's the only problem