The Sailun Atrezzo ZS Plus is a High Performance Summer tyre designed to be fitted to Passenger Cars.
Tyre Reviews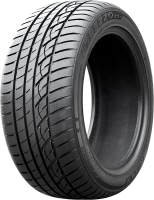 Sorry, we don't currently have any magazine tyre tests for the Sailun Atrezzo ZS Plus
Sorry, we don't currently have any label data for the Sailun Atrezzo ZS Plus
Sorry, we don't currently have any questions and answers for the Sailun Atrezzo ZS Plus. Why not submit a question to our tyre experts using the form below!
Ask a question
We will never publish or share your email address
Top 3 Sailun Atrezzo ZS Plus Reviews
I have these on the rear of my BMW E60 530D and before I purchased search hi and low on the net and eventually found a site where these Sailun tyres and different sizes where been tested on a few cars all different BMW `s on wet and dry road handling, verdict was very good so I bought 2 x 275/30/19 rear and 2 x245/35/19 for the fronts 4 tyres for under 300 and very happy, I drive normally, would deffo buy again
Firstly I have to say that the tyres I bought were the Atrezzo ZS+ and not the UHP but the tyre isn't represented in the table.

The tyres were purchased to go on the back of my Volvo S80, so quite a hefty lump of metal. I have covered close to 20000 miles in the car and with the Atrezzo's covering approximately 15000 of those miles. I was a little apprehensive about buying a tyre I had heard little about but I need not have worried. The tyres have performed superbly. They hold the road very well both in the dry and under heavy rain. The ride is generally quite quiet, more so than the Dunlops they replaced. The tread pattern in modern and the tyre as a whole looks to be more expensive than it actually is. There is still plenty of tread left, 5.5mm pretty much across the full tyre. When I purchased these they were £60 each fully fitted Inc VAT. I would most definitely recommend Sailun as an alternative and have in fact just booked the car in to have two Atrezzo ZSR's put on the front. (Priced at £106 all in for 2x 225/50R 17W 98XL)
Ok tyres for dry weather casual driving. Dangerous wet weather lateral grip, just lots of understeer. Not performance tyres 😂
Have you driven on the Sailun Atrezzo ZS Plus tyre?
Have YOU got experience with the Sailun Atrezzo ZS Plus? Help millions of other tyre buyers
Latest Sailun Atrezzo ZS Plus Reviews