The Sportiva Snow Winter is a Touring Winter tyre designed to be fitted to Passenger Cars.
Tyre Reviews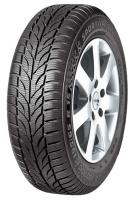 Sorry, we don't currently have any label data for the Sportiva Snow Winter
Sorry, we don't currently have any questions and answers for the Sportiva Snow Winter. Why not submit a question to our tyre experts using the form below!
Ask a question
We will never publish or share your email address
Top 3 Sportiva Snow Winter Reviews
Given
74%
while driving a
Peugeot 206 1.4 90hp
(225/45 R17) on
a combination of roads
for 5,000
average
miles
Very good on snow and wet i am impressed
Fantastic surprise! I mostly drive on express roads and highway but also on country roads on weekends. I have chosen to try these tires because of the dealer where I change my tires, leting me buying being not too convinced with the promise of change if I wasn't happy. So, for the 2020/2021 approx. 10k kms I drove these Sportiva winter tires on all possible winter conditions except ice. (I live in the Northermost city of Germany on the border with Denmark). We have a stable winter round temperature but with lots of water and about 2 weeks of snow. Here I my impressions from driving them on my Audi A6 3.0 TDI quattro: -Autobahn performance was absolutely surprising with very good grip on wet cold asphalt but also on dry. I didn't experience many cases of aquaplanning but the once I did encounter must say were not frightened at all, the car keeping its course at 130 kms/h. The handling was very good and the noise at even 240 kms/h was acceptable reminding me of the Conti. I must say you don't get the silence you get from a Michelin but on the other hand these were sold to me as "middle class tires" paying 80 euo for each. The handling on everyday drive was absolutely flawless, so were the breaking on dry but also wet, with a remark that I feel they are exceptional on the wet. Then, 1 day when we had over 30 cms snow, I took my car for a "play ride" on country roads bordering Denmark. The roads were not cleaned of snow but some had traces left by other cars before me. So I accelerated, turned curves, went uphill and downhill curving, did breaking and also pushing the car through thicker snow. They dealt with everything exceptionall! They were a surprise!! The hardest test I think, it was when I returned home and on a cleaned road the wind had blowed packs of snow on thw road, so I had without warning spots of slippery snow under 2 wheels and hard, wet, asphalt under the other 2. Fantastic again. I am well aware that I drive a quatro with a V6 engine on it but I did hold in mind the driving experience from the last season, driven on Pirelli. There is absolutely no comparison between the two!!! I only took the time to review them because I think they are completely underrated, (I never heard of them) and want the others to know. Least but not last, the wear after 1 season is ca. 1 mm all together. I would highly recommend and definetely buy again! (Just received the GoodYear Efficient Grip 2 as summer tires, will come back with a review on those. Last season summer had the Hankook 3,am really looking forward to check them!)
Hello tyre community,

I have the Sportiva Snow Win2 tyres.
Think it's the new one because it says Win2.

These tyres are on the car since december 2017.
Had already driven under heavy winter snow conditions and they give super grip.

Comfort is very good also thread wear.

It's a RWD and also in dry and wet they give decent performance.

Tyres are made in Slovakia in the Barum tyre plant according to the DOT code.

As we all know these tyre companies are part of the Continental family.

Would recommend these tyres and buy them again.

Greets from Holland
Have you driven on the Sportiva Snow Winter tyre?
Have YOU got experience with the Sportiva Snow Winter? Help millions of other tyre buyers
Latest Sportiva Snow Winter Reviews
Given
71%
while driving a
Fiat Punto 1.2 8v
(165/70 R14 T) on
mostly country roads
for 2,000
average
miles
120-130 kilometers per hour through the slush - easy! Good on dry asphalt, but the profile of a large (70) and there is no possibility of a sports driving. The snow is going well, worse than Uniroyal MS plus 6, but not bad. Now the car is new, the other tires, these tires (165) do not use.