The Tyfoon Successor 5 is a High Performance Summer tyre designed to be fitted to Passenger Cars.
Tyre Reviews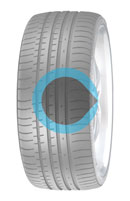 Sorry, we don't currently have any label data for the Tyfoon Successor 5
Sorry, we don't currently have any questions and answers for the Tyfoon Successor 5. Why not submit a question to our tyre experts using the form below!
Ask a question
We will never publish or share your email address
Have you driven on the Tyfoon Successor 5 tyre?
Have YOU got experience with the Tyfoon Successor 5? Help millions of other tyre buyers
Latest Tyfoon Successor 5 Reviews
Given
91%
while driving a
Skoda
(225/45 R17) on
a combination of roads
for 1,000
average
miles
When i bought this tyres, i swear... I never Heard anything for this brand, i said "another chinese brand", for My surprise, i can read in the face the legend "Made in Germany" so... I search on the internet and Discover the brand, is a netherland's brand... And very cheap. I need change My old tyres (Hankook ventus prime Evo 2). Is the Best thing i make for my old good car. Silent, firm, Nice to drive, no noises, very resistant (1st day, literally i "eat" the most gigantic bump on the planet, the tyres still in form) i recommended the tyfoon's tyres.