The Uniroyal RainSport 3 SUV is a Ultra High Performance Summer tyre designed to be fitted to SUV and 4x4s.
Tyre Reviews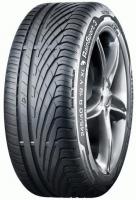 Sorry, we don't currently have any magazine tyre tests for the Uniroyal RainSport 3 SUV
Sorry, we don't currently have any label data for the Uniroyal RainSport 3 SUV
Sorry, we don't currently have any questions and answers for the Uniroyal RainSport 3 SUV. Why not submit a question to our tyre experts using the form below!
Ask a question
We will never publish or share your email address
Have you driven on the Uniroyal RainSport 3 SUV tyre?
Have YOU got experience with the Uniroyal RainSport 3 SUV? Help millions of other tyre buyers
Latest Uniroyal RainSport 3 SUV Reviews
Given
77%
while driving a
Volvo XC90 D5 185 HP
(255/50 R19 W) on
a combination of roads
for 16,000
average
miles
Have fitted the RainSports to my XC90 for the last 5 years. Typically seeing 18-20k miles from them. The last set were the RainSport3 edition, and were not as good. Only saw 16k miles, were noisier than the Took the centre a while to get the tyres to balance correctly; in the end having to swap tyres around on the alloys (at one point seeing a need for 150+ grams of balancing weight! Once sorted, didnt use above 30 grams). The tyres wore symmetrically, but suffer lateral scrabble on poor surfaces (e.g. concrete car parks), and then started rumbling at between 65-75mph at around 9000 miles. This time around I've gone for a Pirelli All Season tyre due to the UK sporadic weather. Of note, the Uniroyals certainly gripped better, when new, and the car had a quicker turn-in than now, with the Pirellis installed. Used to have the edge being the only A-rated wet tyre, but others have now caught up.
Given
70%
while driving a
Lexus RX400
(235/55 R18 V) on
a combination of roads
for 16,000
average
miles
Bought these tyres after an extensive online review for various "summer tyre" options that perform well under wet conditions.
I was drawn by good reviews (apart from wear, but the tyre was still relatively new at the time) -- especially about the grip on wet and reduced noise / low fuel consumption.
Yes, the wet grip is good -- but not worth it by itself (the whole tyre design is done around this point alone). Noise level OK, fuel consumption nothing to boast about (my winter Michelins had the same fuel consumption).

I was warned by the installer that the rubber is too soft, and that the tyre (regardless of the SUV sales-pitch) will wear-out quickly like an eraser on hot paverment under SUV weight... I have to say that the wear was obvious after just one summer of spirited highway driving!
While the tyre performed admirably, especially under several "torrential downpours", it wore down after just two summers (especially the front tyres).

As the sidewalls are somewhat soft, with wear, the SUV ride became a bit wobbly when turning, and I decided against putting another new set on this summer. I will not be bying these again.
Given
69%
while driving a
BMW X3 3.0dA
(235/65 R17) on
a combination of roads
for 10,000
easy going
miles
Very good! Only issue is wear but they're cheap enough to make that ok.