The Westlake SL369 is a All Terrain and Off Road All Season tyre designed to be fitted to SUV and 4x4s.
Tyre Reviews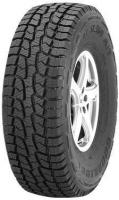 Sorry, we don't currently have any magazine tyre tests for the Westlake SL369
Sorry, we don't currently have any label data for the Westlake SL369
Sorry, we don't currently have any questions and answers for the Westlake SL369. Why not submit a question to our tyre experts using the form below!
Ask a question
We will never publish or share your email address
Have you driven on the Westlake SL369 tyre?
Have YOU got experience with the Westlake SL369? Help millions of other tyre buyers
Latest Westlake SL369 Reviews
Given
73%
while driving a
Suzuki Jimny
(205/70 R15 H) on
a combination of roads
for 6
average
miles
This is my second set, fitted on on two cars - a Suzuki Jimny and an SX4. Here in Australia they are known as Goodride SL369. On the Jimny they replaced a set of supercheap oversize '4WD' tyres and the improvement in handling, ride and noise was marked. On the SX4 they replaced a set of quality Continental road-biased tyres that were wearing out and had a blow-out that ruined the tyre on the very stony 'Road to Nowhere' on Tasmania's West Coast. Compared to the Continental tyres, they are a bit noiser on the road and a bit 'squidgier' cornering, but neither to an extent that is a problem. Performance in the dry is good and is quite acceptable in the wet. Wear after 10,000 kms is light. The real attraction was the price, some half to two thirds of other A/T tyres for the Jimny in this size. The SX4 is 205 60 R16 and I recall the choice for an A/T tyre was more limited and much more expensive. I drive the Jimny tentatively and the SX4 hard. So, in conclusion, if you have a mix of bitumen, town and dirt roads (I have chains for the snow), these are highly recommended.