The Yokohama Advan A048 is a Trackday and Competition Summer tyre designed to be fitted to Passenger Cars.
This tyre has been replaced by the Yokohama Advan A052.
Tyre Reviews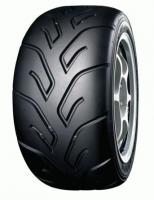 Sorry, we don't currently have any magazine tyre tests for the Yokohama Advan A048
| Size | Fuel | Wet | Noise | Weight |
| --- | --- | --- | --- | --- |
| 0/0 R0 0 | | | | |
Sorry, we don't currently have any questions and answers for the Yokohama Advan A048. Why not submit a question to our tyre experts using the form below!
Ask a question
We will never publish or share your email address
Top 3 Yokohama Advan A048 Reviews
Given
80%
while driving a
Caterham R400
(205/45 R15) on
mostly country roads
for 5,000
spirited
miles
Especially for a Caterham or Lotus this is probably the best thing out there, the amount of dry grip is truly insane - at the end of the day it's a semi-slick so it's going to be good. Even in the wet this is still a great tyre - I've driven through torrential rain storms in southern france, through several cm's standing water at 70mph+ and I'm still here. In the dry go round a few corners hard, the tyres will warm up and you'll stick to the road like nothing else!
Citroën
(185/55 R14 V) on
track
for 100
spirited
miles
Awsome grip in the dry a little slippy ingredients the wet couldn't fault them apart from need replacing after a few sessions
Given
57%
while driving a
Lotus Exige S
(225/45 R17 W) on
track
for 1,000
spirited
miles
Size given for rears - fronts 195/50x16. Review is for the Lotus-specific version of the tyre which has different sidewall stiffness.

Extremely difficult to unstick without provocation in the dry. Pretty much impossible to get the ABS to work braking from high speed, even braking quite clumsily. Very stiff sidewalls hence not very progressive. They need heat in to work, which combined with the relative lack of tread means they're a handful in the wet. On a cold, wet day you can't get enough heat in them for them to work at all which makes it a bit like driving on ice.

Wear - about 2/3 worn after 3000 miles. Comfort - oh come on!
Have you driven on the Yokohama Advan A048 tyre?
Have YOU got experience with the Yokohama Advan A048? Help millions of other tyre buyers
Latest Yokohama Advan A048 Reviews
Given
70%
while driving a
Lotus Elise
(225/45 R17 W) on
a combination of roads
for 7,000
spirited
miles
Sticky responseive and they sound like you're being pursued by a helicopter :). Ok maybe not that bad, but not a quiet tire, but really that wasn't what I was looking for. The grip in wet where there are no puddles is actually ok, but the wide tread pattern can make a puddle over an inch deep somewhat more exciting than desireable. Mind you I've never lost control, but the wonderful feedback of these tires and the Lotus suspension begins to tell me that I am not 100% connected to the road when the water gets deep and I have any decent speed.

If you want a SUMMER performance tire these are awesome but the buyer should be aware that they must not be stored, let alone driven below 14F. Failure to abide by this restriction *may* result in irreparable cracking in the tire side wall, and in some cases eventual tire failure. There are reports of folks successfully driving these in snow, but that's insane for grip reasons even before we get to the temperature issue.

The temp issue is important and this site comes up as one of the first hits for A048 cold weather lotus, so to save folks a lot of time here's a link to my blog where you can read about how to tell if the cracking has occurred and when you should be concerned by it. http://the111shift.blogspot.com/2010/03/yokohama-a048-cold-weather.html
Given
64%
while driving a
Mazda RX8
(235/40 R18 W) on
track
for 200
spirited
miles
This is the 2nd type of S tyre (racing tyre) I have for my track days. The last set was a Bridgestone RE55S. I have to say this tyres are par as the Bridgestone. There are good points and bad points. Good is that they are progressive and very easy to control at the edge. Lots of feedback and lighter in handling. Bad is that it is very tricky in pressure management and tyre temperature control. It is not very easy to get temperature on the tyres, but the flip side is that it is grippy in cold weather, also because of that it is better than the Bstone in cold or wet track. I need to test them a bit more to get the full potential of the tyres. They have potential to get faster than Bstone.