Developed for use in circuit, gymkhana events, the ADVAN A052 will come in 16 sizes, ranging from 16 inches to 18 inches.
The ADVAN A052 will be the successor to the ADVAN A048, an ultimate street sport tyre. The new tyre improves upon the ADVAN A048's already superior cornering and stable handling to deliver unprecedented grip performance in wet and dry conditions. The tread design is developed from the tarmac rally tyre ADVAN A051T which has been using at many rallies in Europe, and also that is derived from the legend tyre, YOKOHAMA A008.
This tyre replaced the Yokohama Advan A048.
Tyre Reviews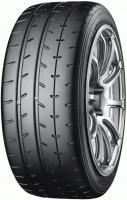 Tyre review data from 8 tyre reviews averaging 84% over 32,978 miles driven.
The Advan A052 is ranked 4th of 28 Summer Trackday and Competition tyres.
Latest Tyre Test Results
2021 Track Day 200TW Tyre Test - 3rd of 8 tyres
Positive - Friendly tyre to drive, slight understeer balance and it felt softer on the sidewall / slower to react than the Falken and BFGoodrich, but it was very easy to drive quickly. Extremely fast warm up, very good for autocross style events.
Negative - Peaky first lap grip with rapid drop off in time, high levels of wear.
Overall - The Yokohama Advan A052 has a quick warm up and predictable friendly handling which makes it an excellent choice for the less confident driver, or those doing sprint / autocross style events.

View Full Test >>
2019 17 inch Track Day Tyre Test - 1st of 5 tyres
Positive - Forgiving of mistakes, greatest cornering grip, good wet grip.
Negative - Expensive, high wear, not designed for heavy rain.
Overall - Similar handling to the Trofeo R, but very novice friendly as it forgives over driving. The A052 doesn't require a strong warmup, and it keeps its peak grip for 2-3 laps before settling into its race pace. Even when worn to the limit the pace remains strong!

Very high treadwear for a 200 tyre, 100-120 seems more realistic.
View Full Test >>
Sorry, we don't currently have any label data for the Yokohama Advan A052
Sorry, we don't currently have any questions and answers for the Yokohama Advan A052. Why not submit a question to our tyre experts using the form below!
Ask a question
We will never publish or share your email address
YouTube Review
Top 3 Yokohama Advan A052 Reviews
Hi everyone,
don't take the wet grip, wear, and comfort scores seriously. After all it's a track tire for dry conditions. As such it does a beautiful job. I haven't come to the point of registering any fading despite driving a 330hp FWD track car. That's also why the front tires are over after 150 miles, though the rear tires have done way more and are still at 50%.
These are the best MSA 1a 1b or 1c Blue book tyre, they are labelled as a 200 treadwear but seem to wear more like a 100 semi slick but have twice the grip of any R888r, AR1, Direzza or Trofeo R in the wet and that's a big deal in the UK! I've used them all on various cars and now these are my Go-To track/race tyre, especially for cars that I drive to and from the track. The main downside is the quick wear in hot conditions, especially if the car does not have enough camber. I had to add about a degree compared to Toyo's so please bear that in mind when switching. Stiffer springs helped too as the grip is closer to a slick! They don't get slower after many heat cycles so you can use them until the cords show through. Then there is the cost but these sort of tyres are getting fitted to expensive cars and at tracks like the Nurburgring, saving £200 on a set of tyres can cost thousands in barrier repairs when a light dusting of rain occurs!! So overall, the best Semi-Slick around, just don't cry when they only manage a handful of trackdays. People will think you or your car are much better than they are! haha
Given
81%
while driving a
Subaru Impreza WRX STI
(225/45 R17) on
a combination of roads
for 6,214
spirited
miles
I have this tyre for a year and 8 months. The grip is phenomenal on dry but on wet not that great. But they are expensive tires.
Have you driven on the Yokohama Advan A052 tyre?
Have YOU got experience with the Yokohama Advan A052? Help millions of other tyre buyers
Latest Yokohama Advan A052 Reviews
Given
77%
while driving a
Lotus Elise
(225/45 R17) on
track
for 15,000
spirited
miles
If you need a Semi Tire with wet performance, then the 052 is the right one. Maybe another Semi is better in the dry but I am very sure that the wet performance is lower! If you need a semi that also performs in the rain, then the 052 is the right choice for you. There may be other semis that are better in the dry, but oh I'm sure the performance in the rain is worse.
Given
91%
while driving a
BMW m2
(275/35 R19) on
mostly motorways
for 3,000
average
miles
I've had these tyres on my BMW M2 for approximately 5,000kms. It's modified with circa 450whp and most tyres including cup2's struggle to put the power down. These have phenomenal grip in both the dry and wet (considering the type of tyre they are). They've been on my daily driver which sees some spirited driving but it has been mostly relaxed highway driving with the exception of a (wet) skidpan day and circa 15 launches during initial testing. The grip has also been consistent throughout their life, unlike other tyres which seemingly drop off, especially with daily driving through various weather conditions. They also don't need a lot of temp in them to function well. Unfortunately wear is pretty average. Where I previously got 30,000kms out of a set of Cup 2's with the same driving conditions, I'll struggle to hit 10,000kms with these based on the treadwear so far. Brilliant tyres for grip (though the cups have better feedback and turn in) but the wear lets them down unless you get them strictly for spirited driving / track work (which to be fair is probably what they are marketed towards) I don't think they are worth it.
Given
78%
while driving a
Lotus Exige S
(225/45 R17) on
track
for 1,500
spirited
miles
I have these tyres on an S2 Lotus Exige for trackdays. The dry grip is very good. True to the reviews, it is a very friendly tyre to drive at the limit, as it breaks away predictably and regains grip smoothly which is useful on a car without stability control! Braking distances are very short, which is further evidence of the great grip that they have, I haven't used them on track in the wet, so I cant say how they feel in those conditions. I drive my car to the track, and although the car is not exactly a luxury cruiser, the ride is improved on the broken UK roads over the Avons it had before. I have done 3 trackdays on the tyres so far. The wear issue that I am having is that the shoulders of the rear tyres seem very worn. The centre of the tyre is fine with plenty of tread left (even though it only started with 5mm!). However, the tyres are still providing plenty of grip. I'll try them on one more trackday and see how they fare!
Given
81%
while driving a
Subaru Impreza WRX STI
(225/45 R17) on
a combination of roads
for 6,214
spirited
miles
I have this tyre for a year and 8 months. The grip is phenomenal on dry but on wet not that great. But they are expensive tires.