The new Cooper CS7 is a replacement for the popular CS2 passenger car tyre. This quieter, next generation tyre has been developed to incorporate technological features that make driving both enjoyable and economical.
The CS7 delivers improved fuel economy over its predecessor, thanks to an optimised tread gauge which distributes load evenly, thus lowering rolling resistance. In addition, the tyre has been designed with a more uniform footprint, resulting in improved tread wear.
This tyre replaced the Cooper CS2.
Tyre Reviews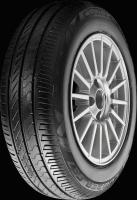 Sorry, we don't currently have any magazine tyre tests for the Cooper CS7
Sorry, we don't currently have any label data for the Cooper CS7
Sorry, we don't currently have any questions and answers for the Cooper CS7. Why not submit a question to our tyre experts using the form below!
Ask a question
We will never publish or share your email address
Have you driven on the Cooper CS7 tyre?
Have YOU got experience with the Cooper CS7? Help millions of other tyre buyers
Latest Cooper CS7 Reviews
Good around tyre. Changed all four on my 08 Peugeot 207sw. Driving, braking and cornering all pretty good and with that, I am happy with them.

However, my mpg has dropped considerably since having them fitted. I commute around 350 miles a week along the same road and at the same time so this gives me a good base as to what my weekly mpg should be. It used to be 58.8mpg on the old tyres, it is now down to 52.4mpg. This may only be around £4 a week but it is £200 more on fuel a year just to get to work and back. This means that these tyres will cost me over £1000 for their duration (initial cost of tyres plus fuel cost).
Goes without saying that I can't recommend them if you are after fuel economy and I won't be purchasing them again.
Hope this review helps a few of you.