The Cooper CS2 is a Touring Summer tyre designed to be fitted to Passenger Cars.
This tyre has been replaced by the Cooper CS7.
Tyre Reviews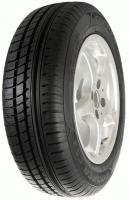 Sorry, we don't currently have any label data for the Cooper CS2
Questions and Answers for the Cooper CS2
2017-04-04 - Hi, I currently have two 175/65 R14 Cooper cs2 tyres. I was looking on eBay to buy another two. While looking, I found two single tyres from different sellers both with similar wear. However the sellers do not specify if the tyres are directional or not. Could you tell me if they are in fact directional or not? Thanks!
The Cooper CS2 is an asymmetric tyre.
---
Ask a question
We will never publish or share your email address
Top 3 Cooper CS2 Reviews
Given
93%
while driving a
Ford Focus MK1
(185/65 R14) on
mostly town
for 20,500
average
miles
By my standards these tyres have behaved without fault for over 20,500 miles. Both wet and dry performance has been worry free
Given
91%
while driving a
Ford Focus MK1
(185/65 R14) on
mostly town
for 37,000
average
miles
Have been running these tyres since the end of November 2012 to the present (January 2016) with no complaint and they work well all year. In heavy rain they clear standing water well. There is one tight roundabout on my route to work which is poorly surfaced and seems like it is covered in diesel or similar, I can feel the tyres warning me not to push any further but it hangs onto the road well with a gentle, progressive feel and if pushed a little harder there is controlable understeer. In the dry I rarely hear a squeal from them without being silly. They wear well and I keep on buying them.
Given
83%
while driving a
Audi A2
(195/65 R16) on
a combination of roads
for 3,000
average
miles
I like these tyres they give good feedback, wet grip could be better, we'll see how the winter months fare!
Have you driven on the Cooper CS2 tyre?
Have YOU got experience with the Cooper CS2? Help millions of other tyre buyers
Latest Cooper CS2 Reviews
Given
27%
while driving a
Honda CIVIC 1.6 VTEC
(225/45 R17) on
mostly country roads
for 4,000
average
miles
had these tyres on for about 6 months and have done around 4000 miles with them on 90% A and B roads, the only good point is that they haven't really worn at all in that time.

If you buy these tyres forget spirited driving! Dry grip is bad by my standards having to watch how fast i set off in my 108 BHP civic as these tyres have a tendancy to spin up.

wet grip is aweful, slides all over the place at reasonably slow speeds, so set off 10 minutes early, if you rush you will probably find a ditch along your way, or it will look like ken block borrowed your car either way.

in 4000 miles of A and B roads the sidewall is now incredibly deformed with 2.2 BAR in the tyre it looks like it is low on air, and it now has a slow flat!

before these tyres i got between 40 and 50 mpg, with them new i was getting around 40mpg and now i am getting between 35 and 25 mpg.

previously had yokohoma ae01 they dont last long but they handle better and give better mileage.
Given
67%
while driving a
Toyota Yaris
(175/65 R14 T) on
a combination of roads
for 7,000
spirited
miles
Generally decent dry grip, slightly prone to understeer and not very good on loose surfaces. Understeer is progressive; Doesn't lose grip all in one go.

In the wet, runs out of grip very quickly and becomes is very slippery under braking and understeery in corners; Have to take them a lot slower than you would in the dry.

Seem quite hard wearing so far!
Given
99%
while driving a
Peugeot 206 1.9 hdi
(225/45 R17) on
a combination of roads
for 2,000
spirited
miles
wasn't impressed when first had them as never heard of cooper tyres but after driving in wet conditions I soon changed my mind they offer good grip not had any scary moments as I did with my old budgets will buy again deffinatley .
Given
89%
while driving a
Peugeot 306 HDI
(185/65 R14 T) on
a combination of roads
for 240,000
average
miles
Fitted these on my Peugeot 306 2.0 hdi bought the car used and had to change all 4 tyres shortly after, it cost around £40 a corner so quite good value.
The difference was noticeable straight away noise levels dropped considerably , braking improved and grip noticeably improved in both wet & dry. I've done just over 20,000 miles and still have over 3mm tread on the front and 5mm on the rear so got a few thousand miles of wear left after I rotate them. I will definitely be replacing them with Coopers when the time comes and would (and have) recommend them to friends and family.