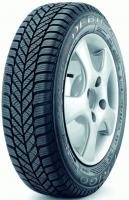 The Debica Frigo 2 is a Touring Winter tyre designed to be fitted to Passenger Car
This tyre replaced the Debica Frigo
Show All
Tyre review data from 17 tyre reviews averaging 68% over 188,110 miles driven.
Latest Group Test Results
2018 ADAC Winter Tyre Test - 175/65 R14 - 6th of 12 tyres
Positive - Good in the snow
Negative - Relatively weak in the dry and wet
2017 AC Winter Tyre Test - 185/65 R15 - 5th of 8 tyres
Positive - Excellent on snow and ice, lowest rolling resistance.
Negative - Poor dry and wet braking and handling.
View All Tests >>
Sorry, we don't currently have any label data for the Debica Frigo 2
Sorry, we don't currently have any questions and answers for the Debica Frigo 2. Why not submit a question to our tyre experts using the form below!
Ask a question
We will never publish or share your email address
Top Debica Frigo 2 Review
Had for 8 winters 2 sets of Debica. First Frigo and then Frigo 2. Upgraded This year to Nokian. I can't belive the difference. They wear pretty fast, i don't do much long distance driving in the winter.
Latest Debica Frigo 2 Reviews
Have you driven on the Debica Frigo 2 tyre?
Have YOU got experience with the Debica Frigo 2? Help millions of other tyre buyers
Given
69%
while driving a
Honda Accord
(205/55 R16 T) on
a combination of roads
for 7,800
spirited
miles
For a budget tyre, is ok, the wear is ok, in snow they are excelent, but on wet roads, you need to be careful if you drove fast, but otherwise, is a ok tyer.
I have used these tires for 4 winters and 2 summers and i can say that summer performance was considerably better. Wet braking and handling is almost non-existent. Failed me many times in wet. One time, I was about rear end even while doing 20 km/h. Dry is fine though. I cannot wait to buy better ones.
Very low dry and wet grip, this tire is at it's best on snow, ride is pretty good for the price as well as wear.
The wet grip (or lack of) failed me on straight road at 56 mph, the rear just lost all the grip. It's ok tire for city driving with heavy snow, but nothing else
Given
64%
while driving a
Mazda 3 2.0 DISI
(205/55 R16) on
mostly motorways
for 5,000
spirited
miles
Blind buy. I was not impressed at all at the grip levels these tyres provided, both in dry and wet. My car is only 150hp and i was doing burnouts at the stoplights often (most of the times not even pushing it). These are going to last a lot given the remaining thread. Did not have any problems in the snowy/icy conditions though, I was never stuck and we get a lot of snow especially in the mountains.