The Debica Frigo HP2 is a High Performance Winter tyre designed to be fitted to Passenger Cars.
This tyre replaced the Debica Frigo HP.
Tyre Reviews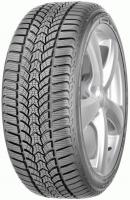 2019 Tyre Tests

2018 Tyre Tests
Sorry, we don't currently have any label data for the Debica Frigo HP2
Questions and Answers for the Debica Frigo HP2
2020-08-23 - I'm looking for the best winter tyre for snow for going up and down hills in the highlands of Scotland size 225 55 17 V would these be any good or can you point me in the correct direction of what to buy
The Continental Wintercontact range are considered some of the best winter tyre available.
---
Ask a question
We will never publish or share your email address
Top 3 Debica Frigo HP2 Reviews
Fitted to winter wheels - used from Nov 2017. After reading reviews I initially wondered if I had made the best decision as they are said to be too extreme for use in the UK - how wrong can some reviews be?

They are perfect for everyday usage and when the "beast from the east" arrived - I laughed! - I was effortlessly driving in the outside lane on dual carriageways and motorways in conditions that had most people crawling in the inside lanes. It was incredible watching other motorists with their knuckles white at their wheels. Traction from a standing start on ice and snow was faultless with no wheel-spin at all.

Fuel consumption is virtually the same as when the car is on OEM 18" Pirelli P7 sport tyres. I have not noticed any issues with longer braking, or excess noise etc. in my normal everyday driving.
Given
80%
while driving a
BMW 330
(225/45 R17) on
mostly town
for 5,000
easy going
miles
I used them this winter (2017-2018) on BMW E90 RWD am very impressed by the quality. Maybe because the first models are produced in Germany and for that.
(When I move them to Poland I do not believe they have such a quality). They are very good at WET, SNOW and Ice !. On dry also very good. Do not give up on anything of premium class. Ðœaybe only noise and wear but not sure.
BMW
(225/45 R18 W) on
a combination of roads
for 0 miles
Hello. I have these tires since november 2019, and i am writing this review because now is snow in Ro.
They are very good on snow and slop, and good on wet.
You can by it for 50 euro/tire.
Very good choise.
Have you driven on the Debica Frigo HP2 tyre?
Have YOU got experience with the Debica Frigo HP2? Help millions of other tyre buyers
Latest Debica Frigo HP2 Reviews
Kia Motors
(205/55 R16) on
a combination of roads
for 10,000
easy going
miles
Not much to say - these are good tyres. Built in Germany. They do what they need to do. Comfortable, quiet and give decent grip. No issues climbing through snow covered parking lots or taking off at traffic lights. Braking feels confident and I have yet to be caught out by difficult conditions. Grip on pure ice is so-so but still manageable. They wear well. Just checked the treads and they still seem like brand new. Color coded stripes are still visible and pattern has not lost any sharp edges. I'm sure I can easily use them for 2 more seasons. Can't really compare the fuel economy since my summer tyres are 225/45/17 and cold winters tend to make engines more thirsty. However I can not see any noticeable fuel consumption difference on longer highway trips. In the end I am happy with the purchase. Well priced solid tyres that have not let me down yet. I have a direct comparison with Hankook Winter I cept iZ2 (second car, same tyre size) and Frigo HP2 seems like a more solid tyre to me.
Given
90%
while driving a
BMW F10 520d SE
(225/55 R17 H) on
a combination of roads
for 8,000
easy going
miles
I am very pleased with them. I mounted them on the car in October 2018 and made 10000 km.
Now I want to take Debica Presto UHP2 for the summer, I hope to make a good choice.
Hi guys! This is my first review here.
So winter came and I needed some budget winter tyres as my old 2013 Vredstein Xtreme Giugiaros became unbearable, noisy, hard crashing over potholes, no grip on ice, etc.

First I want to mention that I love comfort before anything, that is quietness and low NVH in my car (noise, vibration, harshness) so I looked for good budget winter tyres with good levels of comfort and low noise.

I got the tyres in 225 55 17 and I was impressed with the "cushy" ride. I do have the electronic adaptive suspension on my S80 but compared against my old Vredsteins, those were like blocks of concrete, felt like my entire suspension was shot to pieces when going over potholes.

I can't score the snow and ice grip yet because I missed the days when we had it, but I can tell you that wet grip and dry grip on cold days is very very good. They are very quiet, off course compared to my old Vredsteins and the summer tyres I removed. Keep in mind these are budget tyres, I wonder how premium ones are in terms of noise.

Indeed, as some tests and previous reviews stated, the handling suffers. I found it a little bit scary at first to be honest, the "barge like" feeling is very high, good for comfort, but if you plan on pushing the speed limits and\or taking some hard corners I recommend either increasing the pressure or switching the suspension to Sport.

Overall, if you're looking for good budget winter tyres and you prefer comfort and the old "barge like" feeling you can 100% go for these.
Given
84%
while driving a
Mercedes Benz E Class
(215/55 R16 H) on
a combination of roads
for 2,000
average
miles
Advantages: very good traction on snowy roads, on ice also, there were no problems at all. Good braking on dry. Consumption in very close to my summer tyres ( Falken Ziex 310 Ecorun), good feeling on the road. Disadvantages: requires a little more attention at braking on wet/humid roads close to freezing temperatures, comfort is not so good for a winter tyre, more towards a summer one. Noisy but not annoying. I am a fan of good tyres at a fair price. Compared to the other set of Kleber Krisalp HP3 on the another car, Debiça is low only on comfort and wet braking. Good tyre for it's price.