The Evergreen ES82 is a Touring Summer tyre designed to be fitted to Passenger Cars.
Tyre Reviews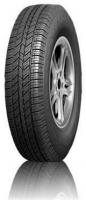 Sorry, we don't currently have any magazine tyre tests for the Evergreen ES82
Sorry, we don't currently have any label data for the Evergreen ES82
Sorry, we don't currently have any questions and answers for the Evergreen ES82. Why not submit a question to our tyre experts using the form below!
Ask a question
We will never publish or share your email address
Have you driven on the Evergreen ES82 tyre?
Have YOU got experience with the Evergreen ES82? Help millions of other tyre buyers
Latest Evergreen ES82 Reviews
Given
100%
while driving a
Honda CRV
(/65 R17) on
mostly town
for 89,000
average
miles
Lasted 89,000 miles. Unbelievable, and one of the four tires was still good to go even then. Drove across the country a few times, did two winters in Chicago, drove up the mountains in California plenty of times. The rest in LA which is likely easier on tires. But still.
Given
90%
while driving a
Hyundai Santa Fe
(235/60 R18 H) on
mostly town
for 35,000
spirited
miles
I have a couple of Evergreen ES82 in my Hyundai Santa Fe. They came with the car when I bought it (used car). I would have never bought cheap tires because I've always thought it can be dangerous, but after 18 months driving with them, I am very surprised with the performance. I definitely changed my mind. I moved from FL to CO last year without any issue. They performs well in snow, very well in raining condition, and the noise is acceptable in HW. The car came with a couple of Duelers (noisy tire), which I already replaced with 2 Yokos YK580. After a year (and more than $500 spent in 2 tires), the Yokos are already worn and need replacement. I already opened a Claim with Yoko, but if they refuse to replace my tires for free, I would gladly by another 2 Evergreen ES82 (they still have tread for ~10K more miles). I did not notice any difference in performance between the Yokos and the Evergreen. Good tires for a good price.