The Falken SN828 is a Touring Summer tyre designed to be fitted to Passenger Cars.
Tyre Reviews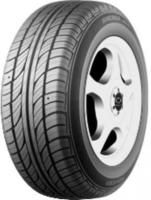 Tyre review data from 9 tyre reviews averaging 60% over 55,748 miles driven.
The SN828 is ranked 126th of 205 Summer Touring tyres.
Latest Tyre Test Results
2011 Long Term Subjective Touring Shootout - 3rd of 4 tyres
Positive - The Falken SN828 isn't a million miles away from the Toyo in any area. Another strong tyre with good dynamic abilities and reasonable grip.
Negative - Wore slightly quicker than the Toyo and didn't quite have the ultimate grip, but very similar tyres otherwise.
View Full Test >>
Sorry, we don't currently have any label data for the Falken SN828
Sorry, we don't currently have any questions and answers for the Falken SN828. Why not submit a question to our tyre experts using the form below!
Ask a question
We will never publish or share your email address
Top 3 Falken SN828 Reviews
Given
67%
while driving a
Suzuki
(225/45 R17) on
mostly country roads
for 25,000
average
miles
Found these tyres after some research. Japanese company so quality assured and nicely moulded. I really like the tyre wear indicators - show when to rotate tyres - it's a shame other manufacturers have not copied the idea. They replaced Conti 3's and I found them much quieter and perfectly OK both in the wet and dry. Tyre life not as good as expected but still great value.
Given
44%
while driving a
Citroën C1
(155/65 R14) on
a combination of roads
for 10
spirited
miles
These replaced Avon ZT5's on the front of my car after a puncture, were recommended by the guys at kwiktwit.The grip is very good in the dry, as you'd expect most tyres to be. When it's even the slightest bit wet/damp they're terrifying. Everybody thinks I'm a "rudeboy roy" wheel spinning off from traffic lights etc, when in fact this is the only way these tyres allow you to pull off in the wet. They handle sharp corners worse than the titanic did, in fact you may want to consider planning a route that involves no corners whatsoever for rainy days. Going around a roundabout at a modest speed I under-steered horrifically and came off sideways, fortunately I didn't crash into anything. Braking in the wet causes the wheels to lock up no matter how gently you press the brakes. The only reason I've still got these tyres on my car is because I'm an impoverished student, if you can afford to get anything other than these tyres then do so.
Given
40%
while driving a
Daihatsu coure
(225/45 R17) on
a combination of roads
for 8,000
average
miles
These tyres came fitted to the front of my Daihatsu Cuore TRxx Avenzato R4 when I bought it from the previous owner.

In the dry, the tyres offer surprisingly good levels of grip. In the wet though they are dreadful! I've never known a tyre to be so poor in even mildly wet conditions as this. Wheel spin and under steer are all too easy but the most worrying thing is when braking in wet weather. In an emergency stop in wet conditions they lock up far to easily and the distance you travel before coming to a halt is just terrifying. I appreciate all modern cars now have ABS which will help stop locking up happening, but still.

Progressiveness is poor - its grip, grip...then suddenly no grip.

There is still plenty of wear remaining, but at the end of the summer, I'll be replacing them regardless, if not before. Would not recommend.

Have you driven on the Falken SN828 tyre?
Have YOU got experience with the Falken SN828? Help millions of other tyre buyers
Latest Falken SN828 Reviews
Given
90%
while driving a
Lancia Lancia Y 1.2
(165/65 R14 T) on
a combination of roads
for 1,000
spirited
miles
Great tyres. Especially in the rain
Given
75%
while driving a
Toyota Corolla II
(225/45 R17) on
mostly country roads
for 3,500
easy going
miles
In my experience, the tyres are noisier than necessary when running on tarmacadam roads. Even at moderate speeds(50 to 60 mph) the cabin environment suffers from excessive transmitted road noise. Since this Toyota Corrola Model was new to the UK market launched in February2019, replacing the previous Toyota Auris Hybrid, I was given to understand that the ride comfort was better with less cabin noise I am somewhat disillusioned to say the least???????
Is it likely that a different tyre specification could improve the driving experience ???????

Given
54%
while driving a
Ford KA 1.3
(165/65 R13) on
a combination of roads
for 8,000
average
miles
Didn't wear all that well. The Nexen SB656 I replaced them with aren't as grippy but are lasting much longer.
Given
98%
while driving a
Toyota IST
(185/65 R15) on
a combination of roads
for 200
average
miles
It's been about 2 weeks since I put these on my IST and I love them! These tyres are very comfortable, quiet and they grip very well :) The price was also very reasonable in comparison to other brands I checked out and they feel better than the more expensive Bridgestones they replaced. I have a feeling they are also going to last for many kilometres. Overall great tyres at a fantastic price, reccommended 100%
Given
66%
while driving a
Ford KA 1.3
(165/65 R13 H) on
a combination of roads
for 10,000
spirited
miles
The SN828 was never going to win any awards for the best performance but for the price I paid (?20 cheaper than the Goodyear NC5s they were replacing) the grip is far far better. They're a neat little tyre that just work, no complains, would certainly buy again