The Firenza ST01A is a High Performance Summer tyre designed to be fitted to Passenger Cars.
Tyre Reviews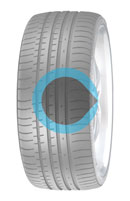 Sorry, we don't currently have any magazine tyre tests for the Firenza ST01A
Sorry, we don't currently have any label data for the Firenza ST01A
Sorry, we don't currently have any questions and answers for the Firenza ST01A. Why not submit a question to our tyre experts using the form below!
Ask a question
We will never publish or share your email address
Top 3 Firenza ST01A Reviews
Given
79%
while driving a
Opel Astra 1.4
(225/45 R17 W) on
mostly town
for 1,000
average
miles
Good, quiet and value for money.
It's Unbelievable!What's A Budget Tyre Which Given A Good Handling, Good Cornering, Good Dry & Wet Grip And It's Comfortable Too. Very Satisfied With This Tyre. Above My Expectation. THUMBS UP!👍👍👍
Used these tyres for about 4000 KM. Dry grip is good but it's not a performance tyre for sure. Wet grip is sufficient even during thunderstorms so long as you drive sensibly. The price is the main advantage these tyres have over its competitors. They aren't expensive however you get what you paid for and the trade off is that these tyres are not as fuel efficient or silent as the more premium branded summer touring tyres.
Have you driven on the Firenza ST01A tyre?
Have YOU got experience with the Firenza ST01A? Help millions of other tyre buyers
Latest Firenza ST01A Reviews
Given
57%
while driving a
Toyota Camry
(215/55 R17) on for 24,000 miles
Immediately off the shelf, I can already hear noise from the rolling brand new tyres once installed. The only thing I found satisfactory was how the road bumps were dampen. But the noise was not what I was satisfied with, given that I drive a hybrid ride which is quieter than the usual petrol car. Fuel consumption didn't improve from my previous set of Westlake tyres. So I reckon the rolling resistance is not any better.