The Firestone F580 is a Touring Summer tyre designed to be fitted to Passenger Cars.
This tyre has been replaced by the Firestone F590.
Tyre Reviews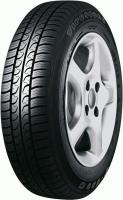 Sorry, we don't currently have any magazine tyre tests for the Firestone F580
Sorry, we don't currently have any label data for the Firestone F580
Sorry, we don't currently have any questions and answers for the Firestone F580. Why not submit a question to our tyre experts using the form below!
Ask a question
We will never publish or share your email address
Top 3 Firestone F580 Reviews
I had a set of these tyres fitted to my wife's VW Golf Mk4 1.4 in 2011. They have now done 29,320 miles. Although a summer tyre their grip in deep snow was excellent.
Have had these on my 02 plate Astra Eco4 diesel for now for 7,000 miles and I cant fault them at all. Dry grip is excellent and although my car is not built for speed the skinny 175 tyres grip extremely well when I push it. They are quiet, and smooth and also have excellent feedback. They are safe in the wet and they cut through deep puddles with ease. Although they are not a winter tyre they also handled the recent snow very well and inspired confidence if driven appropriately. Will definitely fir these again when the time comes. Forgot to mention, they wear well also.
Given
30%
while driving a
Skoda Octavia
(175/80 R14 H) on
a combination of roads
for 15,000
easy going
miles
awful, awful, awful! My car came with these tyres and when i replaced i gave them the benefit of the doubt and replaced with the same...what a mistake! they are plain awful, dangerous even (in the wet/snow), and wear down in just over 10,000 miles. I expected much better from a 'famous' brand like Firestone.
Have you driven on the Firestone F580 tyre?
Have YOU got experience with the Firestone F580? Help millions of other tyre buyers
Latest Firestone F580 Reviews