The Fortuna F2900 is a High Performance Summer tyre designed to be fitted to Passenger Cars.
Tyre Reviews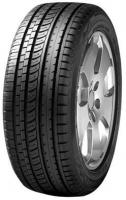 Sorry, we don't currently have any label data for the Fortuna F2900
Sorry, we don't currently have any questions and answers for the Fortuna F2900. Why not submit a question to our tyre experts using the form below!
Ask a question
We will never publish or share your email address
Top 3 Fortuna F2900 Reviews
Very bad gripping tyre worst l ever had in fortyfour years of driving only got 7117 miles on front of x type jag never crossed 70 miles per hour very disapointed
Given
26%
while driving a
MINI Cooper
(205/45 R17 V) on
mostly town
for 9,000
easy going
miles
This is the worst tyre I have ever owned. I recently bought a used Mini Cooper, which the previous owner had kindly fitted with 4 of these tyres. They were fine in the dry (ish) as soon as the roads became slightly damp it was like I was driving on ice. No control over the car whatsoever at any speed. I could go round an average roundabout at max 20 mph, as any faster and I would have no control over which direction I was needing to go.

I have just recently had 2 winter tyres fitted to the drive wheels at the front of the vehicle, and this morning on my way into work, ended up facing the wrong way and nearly had a car drive into me on a roundabout. These tyres are a death trap.

They were also very noisy, and offered the hardest ride. The Mini may have sports suspension, but my 2 new tyres on the front have offered such a quieter and softer ride.
Given
31%
while driving a
Vauxhall Astra 1.6 SXi
(225/45 R17) on
a combination of roads
for 10,000
spirited
miles
Scarey. Hard. No feeling. Changing asap
Have you driven on the Fortuna F2900 tyre?
Have YOU got experience with the Fortuna F2900? Help millions of other tyre buyers
Latest Fortuna F2900 Reviews
Given
20%
while driving a
MINI Cooper
(195/55 R16) on
a combination of roads
for 3,000
easy going
miles
Last summer I bought a Mini Cooper r50 and "very generously" he fitted a new "set" of these tyres (-1 which was a used full winter tyre :/ ). I heard about the minis go kart like handling but I just couldn't see it as the car felt all over the place and trying to keep the car going straight at a decent speed was challenging even in the summer. During the winter I had absolutely zero control over the car and the car would slide out without me even realising the tyres where not gripping at all until I was completely sideways luckily not hitting anyone and there was no way of even knowing you where sliding as the car feels like it's sliding all the time in the wet anyway. To anyone looking at buying one of these tyres DON'T they are a death trap. any dealers putting these on a car should be ashamed. IF you have a set REMOVE them not only are you endangering yourself but others too. but the run flat features nice cause they went flat after 700 miles to 7psi.