The Infinity Ecosis is a Touring Summer tyre designed to be fitted to Passenger Cars.
Tyre Reviews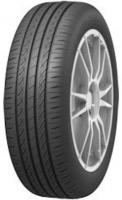 2018 Tyre Tests

2016 Tyre Tests

2015 Tyre Tests
| Size | Fuel | Wet | Noise | Weight |
| --- | --- | --- | --- | --- |
| 185/65 R14 86T | E | C | 70 | 7.50kgs |
| 205/60 R16 96V XL | C | C | 72 | 9.50kgs |
Sorry, we don't currently have any questions and answers for the Infinity Ecosis. Why not submit a question to our tyre experts using the form below!
Ask a question
We will never publish or share your email address
Top 3 Infinity Ecosis Reviews
Given
77%
while driving a
Renault megane cc
(195/50 R16 V) on
a combination of roads
for 1,000
spirited
miles
First 1000 Miles done since getting these tyres fitted to the front of the other half's Megane and I'm very impressed. Were getting rid of the car shortly so didn't want to spend a lot on premium tyres. Cant comment much on wear yet but the grip for a budget tyre in the wet and dry is very good. Neither her nor I have noticed any negatives since replacing the continentals that were on it and we both drive hard. These tyres are an excellent low cost alternative to the premium brands.
Given
100%
while driving a
Opel Astra G
(195/50 R16 V) on
mostly country roads
for 0
spirited
miles
I have now 15k Kilometers I'll buy it again. I don't change other brand again
I bought passat 2004 diesel with those tires.
Thread almost 90%.

Review based on March wether, temp. around 8 degrees and damp/wet road.
Can't rate wear so 5 points.

Even when driving very easy and focused on fuel economy they miss grip.
On the large roundbound with speed limit 60 kmph can go only 30 kmph.
And rear of car is skidding a little bit.

Another roads with speed limit 80 kmph: can go max 65-70km, sharper bends 40-50km. That was in light drizzle and wipers set to approx. 7 second interval...

Motorway: accelerating to 140 kmph during overtaking of truck is the limit in the same conditions.

Braking distance is not worst in straight line, but trying that in bend is suicide.

If you go 100kmph on motorway and try to move steering wheel left and right by 3-5cm then you can feel understeer. Like driving on snow...

Last car (Ford Mondeo Estate 1.8 petrol) fitted with Continental Premium Contact 5 could go even faster tran are speed limits in medium rain.
No problem to go 140 on motorway during heavy rain.

Changing to Continentals rated wet grip A, fuel economy C this week.

Here is link to Ecosis website:
http://www.infinity-news.com/labelinfo.php


Have you driven on the Infinity Ecosis tyre?
Have YOU got experience with the Infinity Ecosis? Help millions of other tyre buyers
Latest Infinity Ecosis Reviews
Given
85%
while driving a
Volvo C30 1.6 Drive
(205/55 R16 V) on
mostly town
for 1,000
easy going
miles
Had these put on a couple months ago on my volvo c30. I was worried at first because of the price that they might feel a little unstable but I needn't have been dubious. They are extremely good under heavy breaking which I've had to do twice since they've been on. I have both times I was left thinking how good they performed. They feel very stable under wet conditions too.
Fitted to my fronts on a Mercedes coupe, done 5000 miles, genuinely impressed in all conditions apart from snow ice, I would recommend you buy them but not for high performance cars obviously.
Affordable branded tyre that drives smoothly£46 each fitted from Asda Tyres.

Wear doesn't look like it is going to be great, but on the back axles it should last a fair amount of time for the price.

C for Fuel Efficiency.
C for Wet Stop distance.
Stopping distance in the dry is good.

Would buy again. No issues.
I was pleasantly surprised by these budget tyres. Bought via Asda Tyres at £50 per tyre, conveniently delivered and fitted at a local garage. I have purchased budget tyres at a similar price previously, which have turned out to be borderline lethal in the wet. However, in the three months I've had these, doing nearly 1700 miles per month, I've had no issues whatsoever. Good grip when driven briskly in cold and mild temperatures, and wet, dry and snow conditions. Quieter than my last set of budget tyres. Haven't really noticed any wear, but early days yet. No complaints so far, would recommend.
Given
84%
while driving a
Renault Scenic
(205/60 R16 W) on
a combination of roads
for 15,000
average
miles
Add a couple of these on the back now for approx 3 months covered about 1500 miles on dry & wet surfaces.
We had snow , frost , & black ice over Christmas , & low temperatures now in February did they manage .......yep they did & very well too.
If you going to drive ,please drive within your capability & any brand can come unstuck if you drive like a numty
I also tow a 1200kgs caravan with these Ecosis tyres & they performed really well , worth every penny , i fully recommended them ,what do I know I've only been driving 40 odd years :-)
Given
71%
while driving a
Peugeot 807
(215/60 R16 H) on
a combination of roads
for 20,000
average
miles
Had a pair for a year now. In my opinion they are good tyres in both the wet and dry. I have certainly had much worse from more established brands. I think they may be wearing a bit quicker than the pirellis I had previously. Would buy again.