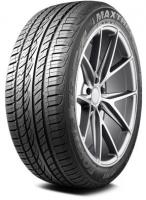 The Maxtrek FORTIS T5 is a High Performance Summer tyre designed to be fitted to Passenger Car
Show All
Tyre review data from 6 tyre reviews averaging 92% over 146,681 miles driven.
Sorry, we don't currently have any magazine tyre tests for the Maxtrek FORTIS T5
Sorry, we don't currently have any label data for the Maxtrek FORTIS T5
Questions and Answers for the Maxtrek FORTIS T5
2018-09-22 - Are maxtrek tires safe even though they are made in China? I'd really like to buy a set. Thanks for your time and patience.
Maxtrek are a budget tyre manufacturer so while they won't perform the same as a premium or mid range tyre brand, they're should be E marked which makes them safe for sale in the EU.
---
Ask a question
We will never publish or share your email address
Top Maxtrek FORTIS T5 Review
Given
90%
while driving a
Toyota Camry
(245/35 R20 W) on
mostly motorways
for 16,000
average
miles
Had them fitted with a new set of wheels on my Toyota Camry. Very responsive road hold and dry grip. Wet grip can be improved. More value then what i paid for, surely will buy again.
Latest Maxtrek FORTIS T5 Reviews
Have you driven on the Maxtrek FORTIS T5 tyre?
Have YOU got experience with the Maxtrek FORTIS T5? Help millions of other tyre buyers
Given
91%
while driving a
Ford Everest
(265/50 R20 H) on
a combination of roads
for 0
average
miles
We have Goodyear Efficient grip on our Ford Everest but we changed after almost 2 years because of signs of early worn out. Then I saw the review on Maxtrek Fortis T5 and tried on our Everest. It's more than 2 years now and still good on the road. Good dry grip and decent on wet road. I reckon it could last another year or two. I never expect a much affordable tyre like this with superb performance. Surely we'll buy again in next tyre change.
Given
89%
while driving a
Ford Everest
(225/45 R17) on
a combination of roads
for 0
average
miles
Stock Goodyear Efficient grip ware early less than 2 years and we tried fitting Maxtrek Fortis T5 on our Everest and so far the tires still in good condition after almost 2 years. Very quiet on the road. Decent handle and drip. We will buy again next tire change.
Installed these on my charger and I noticed a change in the way the car handled right away. They hold their own on corners and they are even extremely quiet and comfortable. I will update later on wear after I have a few thousand miles on them.
Given
96%
while driving a
Chevrolet Traverse LT
(265/50 R20 V) on
a combination of roads
for 80,431
easy going
miles
Just fitted to my Traverse LT and suprise seems better noiseless sound than hankook. Great performance more than hankook what i had past.... Smooth driving, great control, good grip and seems something amazing that, Power performance is increase greatly , feel like are you in racing car... Recommended to buy again.
Given
93%
while driving a
Porsche Cayenne Turbo
(295/35 R21) on
mostly country roads
for 50,000
easy going
miles
Had these tyre fitted as replacement of my Michelin Latitude Sport Nspec tyres, was expecting the tyres to not perform for the price paid, but surprisingly the ride comfort and handling remains at a sinlar level to the Original Michelin. Tire thread life also exceed my expectation. Would definitely recommand these tyres as Premium Budget range and not low tier budget tyres.