2010 Auto Zeitung Winter Tyre Test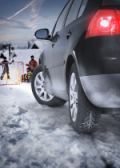 This year the 2010 winter tyre reviews season was opened by Auto Zeitung who put 14 different 195/65 r15 winter tyres on a Ford Focus to the test.
The good news for UK drivers is that this years report included a slush test which rates how the tyres cope with the road surface when the packed snow is melting and it's a mix of snow and standing water.
Instead of going over the key findings from the test, below are the full results with the reviewers comments on each of the tyres performance.
Total: 387
Dry: 123
Wet: 135
Snow: 129

The ContiWinterContact TS830 wins another test thanks to an excellent all round performance. The TS830 offers excellent control in both the snow and the wet and has one of the best dry braking scores.


Read Reviews

Total: 381
Dry: 130
Wet: 131
Snow: 120

The Goodyear UltraGrip 7+ provides excellent traction on snow. It has a strong wet performance and is extremely comfortable in the dry


Read Reviews

Total: 376
Dry: 115
Wet: 138
Snow: 123

The Dunlop SP Winter Sport 3D provides excellent all round snow control, a high level of aquaplaning resistance and shortest braking distances in the wet and dry. The WinterSport 3D only loses a few points for high rolling resistance.


Read Reviews

Total: 354
Dry: 134
Wet: 110
Snow: 110

The Nokian WRG2 provides good snow handling but is slightly let down by its snow braking result. Unrivaled dry grip and excellent wet performance gives this WRG2 a good overall score.


Read Reviews

Total: 350
Dry: 123
Wet: 108
Snow: 119

The Pirelli Snow Control Series II provides excellent control in the snow and wet. Comfortable on dry roads.


Read Reviews

Total: 350
Dry: 113
Wet: 107
Snow: 130

The Vredestein Snowtrac 3 wins the snow test. Good wet and dry handling means the Vredestein draws with the Pirelli on score.


Read Reviews

Total: 348
Dry: 124
Wet: 114
Snow: 110

The new Michelin Aplin A4 offers a more dry bias setup, not excelling in the snow or wet test tests but scoring well in the dry. One of the lowest rolling resistances tyres on test


Read Reviews

Total: 337
Dry: 118
Wet: 101
Snow: 118

While offering strong braking in the snow, the Fulda Kristall Montero 3 provides average snow handling. A good dry performance is let down by a poor wet result.


Read Reviews

Total: 327
Dry: 110
Wet: 109
Snow: 108

The Bridgestone Blizzak LM-32 has an average performance across the tests let down by a lot of road noise in the dry and poor cornering in the wet.


Read Reviews

Total: 313
Dry: 99
Wet: 101
Snow: 113

The Kumho I'Zen CW23 scores well in the snow test but is let down by its comparatively weak wet and dry braking


Read Reviews

Total: 296
Dry: 103
Wet: 99
Snow: 94

Poor braking in the snow, wet and dry means the Firestone Winterhawk 2 Evo only finishes in 11th place


Read Reviews

Total: 291
Dry: 105
Wet: 85
Snow: 101

Poor aquaplaning performance and nervous cornering in the snow and wet leave the Toyo Snowprox S942 in 12th


Read Reviews

Total: 280
Dry: 94
Wet: 73
Snow: 113

The Nexon Eurowin 650 performs well in the snow, but can't match the other tyres wet and dry grip.


Read Reviews
* The Lassa Snoways Era finished the test in last place with 259 points (89 snow, 68 wet, 102 dry)
Discussion:
comments powered by