Firestone Winterhawk 2 EVO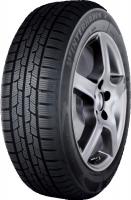 2014 Tyre Tests

2013 Tyre Tests

2012 Tyre Tests

2011 Tyre Tests

2010 Tyre Tests
Sorry, we don't currently have any label data for the Firestone Winterhawk 2 EVO
Sorry, we don't currently have any questions and answers for the Firestone Winterhawk 2 EVO. Why not submit a question to our tyre experts using the form below!
Ask a question
We will never publish or share your email address
Have you driven on the Firestone Winterhawk 2 EVO tyre?
Have YOU got experience with the Firestone Winterhawk 2 EVO? Help millions of other tyre buyers
Latest Firestone Winterhawk 2 EVO Reviews
Ford
(195/50 R15) on
mostly motorways
for 5,000
average
miles
Generally good grip on dry roads but not so impressive on the wet. Had one too many wheel spins in the same places where I previously had none with my summer tyres.

Road noise is high and comfort drops significantly. That aside they are hard wearing, with almost no significant drop noticed when replaced with summer tyres.

Will not buy again...
Good tires performing well on snow, but i wont buy them again the tires are pretty unexpecteble on wet and rainy roads. I get wheelspin starts when i try to accelerate quikly on damp roads. My continental sport contact 3 tire's are performing better on wet dampy roads.
The wear of the tires is verry good the last a long time!
Given
47%
while driving a
Citroën C3
(225/45 R17) on
a combination of roads
for 10,000
average
miles
Worst winter tyre's ever, i crash on the mountains road in italy, i hit a small part with black snow ( snow with sand) amd my rear start to spun-off, but the funny fact is that i regain the control ofr 2 sec and i hit agin snow and i crashed in the rock. Buy another snow tyre.
Given
77%
while driving a
BMW 318
(195/65 R15) on
a combination of roads
for 7,500
average
miles
I bought those tires back in 2010. This will be their 4th winter and I am extremely pleased. My review is for the 195/65/15. I am from Bulgaria and here we have good winters. However, I put the winter tyres when the temperatures are indeed low so I save them the warm days. On wet you will experience a little bit of lagging and a bit understear. However, on snow and sluggish roads they perform very well. They have strong boards and this keeps them from malforming. The wear is great. Placed 5 on progressivness since I don't drive them at the limit.
A very balanced tyre and very good for her price. The only thing that don't like at them is the wet grip...I lose the confidence with this tyres when the road is wet, but in the rest all the things are ok. Life time is very good also and please take into consideration that I use this tyres in Romania where the roads are not good at all...
Given
71%
while driving a
Citroën C5
(215/55 R16 H) on
a combination of roads
for 6,000
spirited
miles
I fitted these to a set of spare wheels at the start of November and havce since covered around 6,000 miles.
They tyres are much quieter than I was expecting from a winter tyre, cirtually no increase in noise over my summer Michelin Primacy HPs - which are very quiet.
Ride quality is very good, they smooth out bumps better than I was expecting.
Dry grip is ok, though if temperatures are around 10degrees and over the tyres seem to grip less than in colder conditions - to be expected for winter tyres.
Wet grip is superb, I really push the car through bends and the grip is very very good and progressive when the grip runs out.
Snow driving is much improved over the summer tyres, though not quite as good an improvement as I was hoping for. Still a good investment and they do provide increased grip when pulling away and braking in snowy conditions.
Ice, well what tyre will grip on ice, there is no difference between these and my summer tyres when the roads are just sheet ice.
The are wearing well, despite my spirited driving they are wearing quite evenly and still look quite new.
I would definitely recommend them, My other options were Dunlops winter tyre and Pirelli Sottozero though these were a cheaper option and they have proved to be good tyres.
Given
87%
while driving a
Kia Motors ceed
(205/55 R16) on
a combination of roads
for 6,000
easy going
miles
Excellent balance between quality and price !
Drove them this winter on ice, snow and dry roads without any problems.

They are not noisy, with good grip and wear.
Fuel consumption was just a bit higher but yes it was winter.
Good Firestone tire !
Given
96%
while driving a
Skoda Octavia
(225/45 R17) on
mostly town
for 200
average
miles
2 EVO are silent (Im driving skoda octavia), stable on wet and dry.
I wait for snow to try on it.