2012 EVO Summer Tyre Test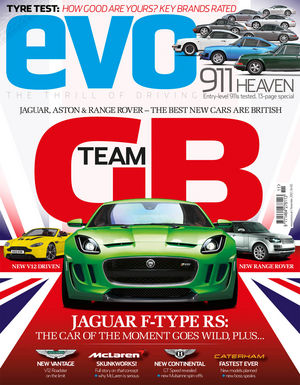 While testing 225/45 R17 on an Audi A3 1.8 TFSI might not be as glamorous as some of EVO Magazines usual test cars, the 225/45 R17 is the second largest selling tyre size today and is fitted to many performance hatches, mid-sized saloons and even some MPVs.

As usual, EVO have put their own dynamic slant on the tyre test, and while they focus on objective scoring, they also give subjective scoring 40% of the overall result meaning a tyre which offers a good balance, and feels good to drive on doesn't necessarily need to have the ultimate grip to score well.


The Results
In raw performance, this years test was extremely close. The dry lap was covered by just 2.61 seconds, from the first place Vredestein, to the last place Nexen - that's a 2.4% difference. Fortunately, the subjective score had a much bigger variance, with the worst on test getting just 70.7% of the pack leading Pirelli.
The wet lap, while shorter was a little more spread, with 5.11 seconds covering the first place Pirelli to the last place Nexen, or 6.8%. Again, the subjective scores offered a much wider spread, with the Nexen trailing the pack a whole 37% behind than the winning Goodyear.
Other tests included aquaplaning and rolling resistance tests, as well as a purely subjective road driving section. Interestingly, tyres which scored poorly in during the subjective dry lap or wet laps didn't necessarily score badly during the road section of driving, which focused as much on ride quality and noise as it did steering feedback and "on the limit" grip.
Overall
"Grip under acceleration, cornering and braking is paramount"
John Barker - EVO
In this years tyre test EVO have done an excellent job of reminding us how a tyre feels is as important as how much grip a tyre has to offer.
The premium brands have once again shown that you do get what you pay for with tyres, and have locked out the top 6 places, with Hankook, Vredestein and Kumho closely squabbling for 7th, and the cheapest tyre on test a long way back in last place. Would the Goodyear have won without the strange aquaplaning result? Possibly, but you won't go far wrong with any of the top 4. It is however worth keeping in mind that this result stands for 225/45 R17 tyres on an Audi A3, a different tyre size on a different vehicle might change the order of the top 6.
As always our coverage doesn't do the test justice, so make sure you pick up
EVO issue 175
for the full write up and the detailed results breakdown.
Total: 760.3
Dry: 199.7
Wet: 292.6
Subjective: 100
Rolling Resistance: 72.5
Overall: 95.5

Dry:Half a second off the fastest tyre in the dry, the Pirelli won the subjective test thanks to its "outstanding steering feel, connected and responsive and with a light, accurate touch"

Wet:Fastest wet laptime, highest lateral G and joint 3rd in the subjective test due to gritty feedback meant the Pirelli P Zero was one of the wet weather specialists. 4th in wet braking and a strong aquaplaning result too backed up the lap time

Subjective:On the road the Pirelli demonstrated bright connected steering with smooth running over imperfections. Not the quietest, but not the noisiest either

Overall the P Zero demonstrated a consistently strong showing in all the tests, other than rolling resistance where it finished last


Read Reviews Buy from £110.62

Total: 764
Dry: 192.9
Wet: 294.3
Subjective: 82.2
Rolling Resistance: 100
Overall: 94.6

Dry:5th fastest in the dry, but just a second behind the Vredestein and second strongest in dry braking, the Goodyear scores 3rd in the subjective scores with gritty feedback. "Effective, not inspiring"

Wet:Just half a second behind the Pirelli in the wet, but topping the subjective test, the F1 A2 proves again it's one of the best tyres in the wet. It hooks up well out of the corners, it's strong on the brakes and unmatched in the left right section of track. Best again in wet braking, the Goodyear is oddly weak in the aquaplaning tests, potentially missing out on 1st place as a result

Subjective:During the road driving the Goodyear absorbed big imperfections and choppy surfaces well, but was rather noisy and offered only a half decent connection through the steering

The best rolling resistance, combined with plenty of table topping wet performances the Eagle F1 Asymmetric 2 retains its crown as a strong wet weather tyre, with the lowest rolling resistance. Effective in the dry, but subjectively it lacked a bit of sparkle, the oddest and most disappointing part of the test was the weak aquaplaning results where it is usually strong


Read Reviews

Total: 753
Dry: 191.5
Wet: 288.6
Subjective: 95.6
Rolling Resistance: 83.2
Overall: 94.1

Dry:While the Michelin finished 8th in the dry handling, this was less than 1.5 seconds behind the fastest tyre. Subjectively it was mid pack, feeling balanced and willing, but pushing wide on the corner exit

Wet:Third place in both the wet handling and wet braking, the Michelin backed this up by topping both aquaplaning tests, yet oddly could only manage 9th in wet braking. Subjectively the Michelin was very strong, almost matching the Goodyear for feedback and feel

Subjective:Second only to Pirelli in the road driving, the Michelin was nicely weighted, keen to steer and extremely quiet and supple over rough surfaces

Another tyre strong which is strong in the wet, only slightly disappointing with an average dry performance


Read Reviews

Total: 740.8
Dry: 193.2
Wet: 281.4
Subjective: 93.3
Rolling Resistance: 79.1
Overall: 93.8

Dry:Fourth fastest in the dry, the Conti matched the Goodyear for subjective feel

Wet:Fourth overall in the wet, the Conti seemed to lose the time in corner exit, where it span up a little more than the Goodyear. 3rd and 2nd in the aquaplaning tests and 3rd in wet braking means the SportContact 5 is another strong wet weather tyre

Comfort:On the road the Continental was a little more surfact sensitive and the steering a little dull at town speeds, but thereafter it felt as connected as the Pirelli

Overall the Sport Contact 5 is a tyre that seems to get better the faster you go. Strong in both the dry and wet, it was only slightly let down by subjective feel and a mid pack rolling resistance


Read Reviews Buy from £84.95

Total: 717.5
Dry: 194
Wet: 276.9
Subjective: 86.7
Rolling Resistance: 68
Overall: 91.9

Dry:A second behind the Pirelli in the dry, the Bridgestone was second in the subjective scores thanks to its stable and neutral behaviour on the track

Wet:Seventh fastest in the wet, the Bridgestone felt like it had a lot more to deliver with a strong neutral balance, but never quite had the raw grip to deliver. Mid to bottom pack in wet braking and aquaplaning left the S001 lacking overall

Subjective:Firm riding and good steering weight, the Bridgestone just lacked a little feel on the road section of driving

Mid pack in most of the wet tests, the Bridgestone showed to be a stronger performance in the dry, with an excellent subjective feel on track


Read Reviews Buy from £102.50

Total: 733.9
Dry: 184.9
Wet: 282.9
Subjective: 84.4
Rolling Resistance: 90.1
Overall: 91.6

Dry:The strongest dry braking and third fastest dry laptime, the Dunlop was let down by poor subjective feel. While the steering felt direct, it didn't translate into useful agility and when pushed harder, it became less responsive

Wet:The second highest lateral G in the wet, but only the sixth fastest time, the Dunlop again scored poorly with the subjective feel of the tyre. Second in wet braking and strong aquaplaning results

Comfort:On the road the Dunlop was fairly firm and noisy, but rewarded with responsive steering at slow to moderate speeds

A strong raw performance in both the wet and dry gri[, the Sport Maxx RT was held back by its subjective feel while track driving


Read Reviews Buy from £81.38

Total: 718.4
Dry: 191.5
Wet: 272.4
Subjective: 84.4
Rolling Resistance: 79.2
Overall: 90.9

Dry:The Hankook scored well subjectively, feeling light and connected, giving the car a sense of flow, it finished just 1.5 seconds behind the fastest (albeit, still in seventh)

Wet:Ninth in the wet lap, eighth highest lateral G, last in the wet braking and joint seventh in the subjective test, the Hankook reflected its pricing with a weak wet performance. The Hankook regained some composure with fifth in both the aquaplaning tests

Subjective:The Hankook scored another fifth place in the road route, offering great feel and precision, but rather noisy

Not the fastest tyre on test, with last place in wet braking as a test low, the Hankook S1 Evo2 never felt particularly bad, scoring well subjectively in many places


Read Reviews Buy from £68.39

Total: 703.8
Dry: 184.1
Wet: 275.6
Subjective: 77.8
Rolling Resistance: 76.7
Overall: 89.6

Dry:Fastest dry laptime, narrowly beating the Pirelli, but scored poorly in the subjective tests, often feeling scrubby

Wet:Over 2 seconds behind the Pirelli, the Vredestein struggled with lateral G in the wet handling. Subjectively a little better, the tyre could only manage seventh in the wet braking test and scored poorly in the aquaplaning tests too

Subjective:The Ultrac Vorti also scored poorly on the road route. Although the tyre offered positive clear steering, it came at the expense of ride quality

The Vredestein Ultrac Vorti seems to have traded a strong dry performance with a weak wet performance, and a good steering response on the roads over ride comfort


Read Reviews

Total: 692.9
Dry: 169.2
Wet: 275.9
Subjective: 82.2
Rolling Resistance: 77.4
Overall: 88.2

Dry:Last in dry braking, second to last slowest lap time and worst subjective feel due to light steering and lack of grip, the Kumho Le Sport had a weak showing in the dry

Wet:Fifth in both the timed lap, and lateral G, the Kumho has its strongest showing in the wet lap, with a slightly lose subjective feel helping the ultimate time. In the wet braking and aquaplaning tests the Kumho could only average eigth

Subjective:On the road route, the light steering continued, along with high cabin noise. Fairly comfortable on most surfaces though

Much closer to the tyres above rather than the Nexen below, the Kumho had a relatively strong wet performance. Slow in the dry, and a dull light steering feel give the Kumho a poor subjective score overall


Read Reviews

Total: 641.5
Dry: 173.2
Wet: 235.8
Subjective: 75.6
Rolling Resistance: 77
Overall: 79.9

Dry:Slowest in the dry, but rated subjectively ahead of the Kumho, the N8000 needed extra steering lock and made a lot of noise while delivering its time

Wet:The Nexen felt out of its league in the wet, scoring bottom in time, lateral G and subjective feel. Over 5.1 seconds behind the Pirelli over a 70 second lap

Subjective:Poorest steering, feeling vague and unresponsive at nearly all speeds. Noisy

While the Nexen N8000 might be the least expensive tyre on test, it proves that you get what you pay for by being slowest by a fair margin in the wet, and subjectively one of the worst tyres on test


Read Reviews