BFGoodrich Urban Terrain TA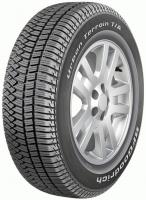 The BFGoodrich Urban Terrain TA is a Premium Touring Summer tyre designed to be fitted to Passenger Car
Show All
Tyre review data from 13 tyre reviews averaging 87% over 100,220 miles driven.
Sorry, we don't currently have any magazine tyre tests for the BFGoodrich Urban Terrain TA
Sorry, we don't currently have any label data for the BFGoodrich Urban Terrain TA
Questions and Answers for the BFGoodrich Urban Terrain TA
2016-12-15 - What is the weight of this tire for the size 235/60 R16? Thanks!
13.02kg when new
---
2018-05-14 - I have tried investigating these tyres for my Tiguan 235/55r17 but not a lot of UK information. Would you be able to advise if they are descent for everyday driving, annually 10-12k miles. Blackcircles have them with interest free and I am curious if there is a reason for this?
They're intended for everyday driving, unfortunately I've no personal experience with these tyres so can't give them a personal recommendation. BFGoodrich are an excellent tyre manufacturer though so I expect them to be a good tyre.
---
Ask a question
We will never publish or share your email address
Top BFGoodrich Urban Terrain TA Review
Given
78%
while driving a
Toyota RAV4
(235/55 R18 V) on
a combination of roads
for 100
average
miles
Just purchased and less than 100 miles on them so far. I will say they ride and grip much better than the stock tire that came on my RAV 4.
Latest BFGoodrich Urban Terrain TA Reviews
Have you driven on the BFGoodrich Urban Terrain TA tyre?
Have YOU got experience with the BFGoodrich Urban Terrain TA? Help millions of other tyre buyers
Given
99%
while driving a
Toyota RAV4
(225/65 R17 H) on
a combination of roads
for 20
average
miles
BFG Urban Terrains have lasted very well. Nice and even what ever the weather, handles it all. More than happy with the tyres in the snow & slush we get in the UK, no problem in the wet very sure footed, nice & comfortable in the dry. Fitted to a RAV4 these tyres are a good match.
Lasted about 20,000 miles @ 2 years, just starting to get a bit louder and noticed a drop off in economy, down to about 2.5mm across the front two, BFG Urban Terrains replacements on order.
I bought for 1 year ago. a unique negative point is loudness. Dry, wet and snowy driving is comfortable. I do not suggest but at high speed driving one-hour duration was very safe and smooth but you must not drive fast. 20 cm snow driving and handling are very easy. unfortunately consumption is more than my previous summer tire 1-liter euro diesel per 100 km. I have no experience in the mud field. I can buy again definitely.
BMW
(255/55 R18) on
a combination of roads
for 7,000
easy going
miles
Bmw x5 3.0d 18inch wheels
BF urban terrain front 7000 miles since new started with 9mm of tread now has 8mm of tread
so front tyres should last 7.4 x 7000 approx 50000 miles on front 62000 on rear if taken to legal minimum
michelin latitude sports lasted 20000 front 25000 rear
michelins have the edge on handling and steering response BFs have better comfort/ ice and snow /mud /tread wear at similar tyre purchase cost
For me overall I prefer the BFs and the extra tread life makes it a no brainer
but for the driver whose priority is steering response / handling the michelins perform better





Given
94%
while driving a
Subaru Outback
(225/65 R17) on
mostly country roads
for 25,000
average
miles
Probably the best all round tyre I've used and have tried many over the years. Bought Urban Terrains because one of my Landcruisers clocked up 50,000 miles on BFG AT's and still had plenty of life left with superb off road and excellent on road characteristics. Now I drive a 2014 Subaru Outback. Found the UT's good for their type in the mud, excellent in the snow (acceleration, braking and cornering all good and predictable) and with extremely good on-road performance and manners. Done 25,000 miles and according to the MoT tester all four corners were between 5mm and 6mm remaining so plenty left. Had to fit 225/65/17 as no 225/60 available. Won't look at anything else now, am very pleased. For a compromise tyre (which all season must always be by definition) they come close to being the perfect tyre for me.
Given
80%
while driving a
Dacia Duster 4x4
(215/65 R16) on
a combination of roads
for 25,000 miles
Sufficient traction in the snow, average braking distance.
Average traction on ice, poor braking.
On wet and dry ground.
Tire life is very high.