Bridgestone Dueler H/T 684
The Bridgestone Dueler HT 684 is a Premium Touring Summer tyre designed to be fitted to SUV and 4x4s.
Tyre Reviews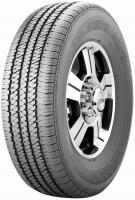 Sorry, we don't currently have any magazine tyre tests for the Bridgestone Dueler HT 684
Sorry, we don't currently have any label data for the Bridgestone Dueler HT 684
Questions and Answers for the Bridgestone Dueler HT 684
2020-09-18 - Hi My wife has purchased a new shogun sport which has Brdigestone dueler ht 648 tyres fitted. In your summary for these tyres I see they are classed as a summer tyre. We live in the north east of england around the pennines at around 1200 ft above sea level so we do get some bad weather during the winter. I wish to purchase some extra tyres to fit for the winter months and have looked at some of your reviews and you seem to suggest that a all season tyre would be a better option than the all out winter tyre due to the wet handling ( unless i have mis-understood your comments) could you suggest what you think would be my best options in the premium budget range. Also I was thinking of fitting these end of Oct to end of March unless you suggest otherwise Rim size 265/60 R18 rating of existing tyre is 110H Many thanks for any help on this
You have some good options of all season tyres in 265/60 R18, of the list available I would recommended the CrossClimate SUV.
---
Ask a question
We will never publish or share your email address
Top 3 Bridgestone Dueler HT 684 Reviews
Given
91%
while driving a
Honda CRV
(205/70 R15 T) on
a combination of roads
for 6,060
spirited
miles
I drive a 4x4 SUV both on and off road and have found these tyres the equivalent to their Dueler A/T 001. My only problem is that they appear to be becoming difficult to find!
The tyres were supplier with my 2018 Land Cruiser. I have just had my 3rd puncture in 22,000 miles and will not be sticking with this model of tyre again. For general road/highway driving, they are fine - fairly quiet, enough grip in most conditions and comfortable. Wear seems pretty good also - 5-6mm remaining after 22k miles. Unfortunately I don't think they are made for any off-road work - I do a lot of gravel and flinty farm tracks - simply not tough enough. Considering the tread pattern they are just about acceptable off-road (muddy tracks/fields etc) but nothing more than that.
Toyota hilux
(265/60 R18 H) on
a combination of roads
for 7,500
easy going
miles
I am using them on my Toyota Hilux and is used 50/50 on bituminous and earthen road. They were fitted by the factory. On dry bituminous road that are ok but on the noisy side. You can also feel that they have a bit of rolling resistance. On wet, they are slippery and you are not always feeling safe on sharp turns. On dry earthen road, they are not good. Slippery with the dust that kills that traction. And they puncture easily. The worst is on wet earthen road, they are DANGEROUS. 0 grip, the car is on skates. Tyre pattern fills up in matter of second and NEVER expulse the trapped mud. I would not recommend and not buy again.
Have you driven on the Bridgestone Dueler HT 684 tyre?
Have YOU got experience with the Bridgestone Dueler HT 684? Help millions of other tyre buyers
Latest Bridgestone Dueler HT 684 Reviews