The Compasal Smacher is a Touring Summer tyre designed to be fitted to Passenger Cars.
Tyre Reviews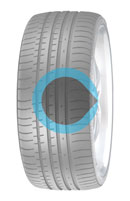 Sorry, we don't currently have any magazine tyre tests for the Compasal Smacher
Sorry, we don't currently have any label data for the Compasal Smacher
Sorry, we don't currently have any questions and answers for the Compasal Smacher. Why not submit a question to our tyre experts using the form below!
Ask a question
We will never publish or share your email address
Top 3 Compasal Smacher Reviews
These tyres were fitted brand-new to the front of a Fiesta Zetec-S I bought last summer. The rear had the original Continentals with about 15000 miles wear. I have to say I'd never heard of the Compasals and had a sense of foreboding about them as I'd figured the dealer had just fitted the cheapest replacement possible.
Unfortunately I was right!
On my way back to base (150-odd miles) on a hot, dry July evening, the tyres seemed ok as they scrubbed in. Eventually I was on roads I knew backwards and decided to test the tyres...
I was now on B-roads and there is a particular Left-hand corner I know and love on both car and bike, but I digress...
I approached said corner, changing down in preparation for what was to come, took a deep breath, pitched it in and floored it. Annnnd. SsssssKerrrrccchhhhh as the car moved swiftly towards the offside of the corner.
'Hmmm', I thought absently as I juggled the wheel, 'that doesn't usually happen.'
Still, it was provoked.
Several months later it is now cold and wet. If provoked at all, it is slither time.
Two days ago (with warm tyres - 50 miles into a trip) I accelerated hard away from a junction. Except when I dropped the clutch the car jumped about 6" sideways instead of moving forwards in an orderly manner.
That was the last straw. A replacement pair has been ordered despite the total wear of about 4000 miles on the Smachers. How much does even the slightest accident cost these days?
The fairest way to describe these tyres is to say they resemble the Japanese tyres of the 70's. Nice'n'shiny and plastiky - but I'm sure they'd last ever such a long time if you drive in straight lines in Arizona.
Bought these tires brand new for my Mercedes after my winter changeover. I was getting quoted 3x the price and although I understand there might be a slight difference between the brands I was quite happy with these. The quality is excellent at a fraction of the price. I use it as a daily driver and take the car and long road trips as well. So far I'm 56,000 km's into these tires and they seem to have another 20-30k which is what I got on my dunlop set (the previous set on this vehicle). I would say that if you are picky go with any major brand for the peace of mind but for every day use I found these to be excellent for regular use.
Given
43%
while driving a
MINI Cooper S
(205/45 R17 R) on
mostly motorways
for 150
spirited
miles
There's one thing that never ceases to amaze me with the great British public....how little thought and consideration they have when protecting their lives, and that of others.
The reason why I say this, is that every car I buy second-hand is, guaranteed EVERY time, fitted with cheap rubbish Hoo Flung Dung tyres, and windscreen smearers that used to wipe the rain away, many moons ago.
This weekend, I purchased a Mini Cooper S (the supercharged convertible), and guess what? Yep, crap Chinese tyres on every corner, including a pair of Smacher tyres up front, and something with a laughable name at the back, and yes, the customary windscreen smearers..Lets get this into perspective. A good pair of tyres (for example, Avon) for this car cost around £65 each, fitted. The Smachers are £46 each. Two good wiper blades (Bosch) will cost, at the very most, £10 each. One of these tyres will stop very well during Englands 6 month monsoon season...one will stop you eventually whilst you pray. The total cost between safety and surviving potential life-or-death situations and unwittingly becoming a crash test dummy is less than £100...for less than the cost of a months council tax, and yet people continue to fit these things, even on performance cars? Economy? When all that's between you and the road are thin circles of synthetic rubber? In conclusion, if you don't mind soft handling, louder than normal road noise, and far, far below par braking distances, by all eans buy some. Me? If I couldn't buy better, I'd get the bus.
Have you driven on the Compasal Smacher tyre?
Have YOU got experience with the Compasal Smacher? Help millions of other tyre buyers
Latest Compasal Smacher Reviews
Mercedes Benz
(245/40 R18) on
a combination of roads
for 12,000
average
miles
These were fitted to a Mercedes e350 esate on the front,they are extremely noisy so much so that I thought the wheel bearings were shot,had them checked and was told bearings ok tyres were the cause. they were fitted new prior to lockdown when I bought the car,so was hoping to replace them quickly.Had them on 2 years now,still plenty of tread after about 12000 miles,but am changing them.Keep clear.
Given
46%
while driving a
Peugeot
(215/55 R17 W) on
mostly town
for 3,000
average
miles
Bought for a Peugeot 407sw, OK, not an exciting car to drive so figured cheap tyres were OK. To be fair under normal driving they are fine, they grip OK but if pushed feel like they run out of grip far to easily.
My real gripe with them is that they have worn out in 3200 miles. Yes, 3200.... Inner edge was bald with about 2mm left all over, very disappointed and would call it false economy. The car is a bit heavy on the front end and the hsi quite torquey but still terrible. Would not buy again due to the poor wear.