The Dunlop Direzza 03G is a Trackday and Competition Summer tyre designed to be fitted to Passenger Cars.
Tyre Reviews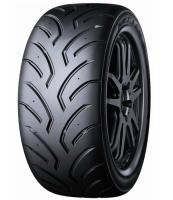 Sorry, we don't currently have any label data for the Dunlop Direzza 03G
Questions and Answers for the Dunlop Direzza 03G
2016-06-13 - which UTQG rating have this model? 195/50/15 R2 compound
Unfortunately as this model of the Direzza 03 G was never sold in Europe DOT approved, we're unable to get UTQG ratings from Dunlop UK. We suggest trying to contact an American Dunlop representative.
---
Ask a question
We will never publish or share your email address
Top 3 Dunlop Direzza 03G Reviews
Given
74%
while driving a
Toyota Corolla
(205/50 R15 S) on
track
for 0
spirited
miles
I fitted 03g Dunlop tyres in a soft compound and went from being mid field to in the top 5 cars at any hill climb I went to
Given
63%
while driving a
Honda Civic Type R
(265/35 R18 W) on
track
for 100
spirited
miles
This is the fastest Dunlop tire you can get outside of Japan (of course excluding slicks). However, both Direzza β04 and β02 (which are only available in Japan) are faster than this tire, so not the fastest Dunlop in the world. It comes with many different compounds, S5, S2, M5, M2, T3, R3, R2, H1, KH (there were even more compounds but trimmed down to this) at this moment, depending on sizes. Although I've only used S5, M5, T3 and R2 (and the S/M/T compounds are kinda harder to get outside of Japan), but they have been faster than Direzza Z III by a good margin, regardless of compounds.
I bought some Dunlop Direzza 03g for my scirocco track project.

I fitted them for a couple of trackdays and some varied road driving, mostly in summer of 2016 where it's been pretty good weather, only a few downpours to contend with.

Immediately after my Michelin PS4s (which are also very good!) were removed and these fitted I noticed a huge improvement in feedback coming back through the wheel, for example going over small stones in the industrial estate! Initially it's a very weird feeling but you soon appreciate it. The immediate steering feedback is amazing, the off-center vaugeness that has plauged my car and even with very specific alignment was not resolved, is completely gone. Driving with these tyres is simply a joy.


The grip is absolutely mental in the dry - no other word for it. In another level compared to Yokohama AD08R or similar. At a hot Donnington park the car was able to brake very late and still manage to hit Apexs which was very impressive, cars following were trying to follow my line and running wide! If you do push them a bit too hard the breakaway is very progressive for a tyre of this type. Coping with a 250bhp nose heavy diesel hatchback they manage very well.

They do need to warm up however, so on the road give it 10 or so miles otherwise they do let go with little warning (however you have to be pushing quite hard to find this limit and you would still be usually warming up the engine before then.

I found track pressures cold of 28psi front 30psi back worked great on my car. On the road I run 34psi all round and this seems to be good.

In the wet they are actually not too bad. I would say that in my limited experience of budget tyres, once warm, they will outperform your typical Nankang NS2 or similar road based budget to mid range tyre.
Heavy standing water should be avoided, and some finesse is required but in the wet on the roads we should not be pushing that hard anyway :-)

I think as a tyre to run April-October they would be more than usable on a daily basis for enthusiast drivers. I would absolutely not recommend using these tyres over winter in the UK, I also believe Dunlop say the tyres should not be subjected to cold temperatures as this can damage the compound (or some other nonsense).

With regards to wear I have put approximiately 1200 miles on these tyres and the tread has gone down from 3.6mm when fitted to 3mm at the fronts and 3.2mm on the rear.

The only real bugbear I have of these tyres is the noise - yes I expect track tyres to be loud on the road but these really can be horrific and certain speeds have very loud resonations - namely around 40 and 85mph which can be annoying some of the time. Sounds like all 4 wheel bearings are about to fall out. But this is the price we pay for enjoyment through the driving experience and grip.

For track use they are brilliant. I noticed no real improvement over my Michelin PS4 or Vredestein Ultrac Vortis in grip during a standing start (drag racing) - I suspect you need to thoroughly warm the tyres up with burnouts or similar for them to be more effective.

I would estimate with my driving I would get about 8-10k from a set of fronts with purely road and 15-16k on the rear.

Given the cost of these tyres in my size (around £300 each) I would recommend fitting for spare wheels or on a car used only occasionally.

I would like to try Pirelli Trofeo R next so that may be my next purchase and I will move to Yoko AD08R for daily use.

Have you driven on the Dunlop Direzza 03G tyre?
Have YOU got experience with the Dunlop Direzza 03G? Help millions of other tyre buyers
Latest Dunlop Direzza 03G Reviews
Given
74%
while driving a
BMW 320
(205/50 R15) on
track
for 150
spirited
miles
On the track they have so much grip, amazing in the wet, but wear too quickly..
Great grip once warm. Niosy. Tyre side wall blow out when doing 200km/hr at Aussie racetrack The Bend. Fun.....NOT! Pressures check just before leaving the pits, 26PSI cold, 33 hot.
Given
88%
while driving a
BMW E46 M3
(265/45 R18) on
track
for 250
spirited
miles
I have used these on a supercharger BMW M3 track car and they are simply in a different league to anything else I have used before. We up to temperature in dry conditions they are superb, confidence inspiring and a close to a full slick race tyre as I have found. I wouldn't buy anything else right now.
Given
80%
while driving a
Porsche 996 GT3
(285/30 R18) on
track
for 800
spirited
miles
My comments only relate to track days as I rarely use the car on the road, except driving to and from the track.

My background is Porsche racing and so I drive my standard road Porsche accordingly on track days.

Fantastic dry grip and handling. Tyres are progressive on the limit and don't suddenly loose grip. Even in the wet they are progressive at the limit.

The rear tyres are at the end of their life after about 3-4 track days, depending upon the track. I have had the sidewalls disintegrate and the tread lift, typically on the 4th track day, on 3 separate occasions. So now I throw them away after 3 track days: following a blow out at 250km/hr. So why do I continue to use them? Because they have the best dry grip and handling in the dry when compared to any other road legal tyre on the market.

Nb: The front tyres last about 50% longer than the rear tyres and don't give problems.
Given
71%
while driving a
Mitsubishi Colt
(205/50 R15) on
mostly country roads
for 0
spirited
miles
These things are amazing. I have been running these on the street and driving the hell out of them and wow do they perform. The sidewalls are very stiff I never felt any kind of flex or rollover in hard cornering. Even when they were cold, the response from these were incredible.
In terms of wet performance I didn't push them too hard, however they seemed to perform better in the wet than my daily tires did in the dry.
For tire wear, you get what you give. I gave them a good hour of very spirited driving on a canyon run without seeing any real significant wear.
The only thing I see that could be an issue, is that as most track compounds do, it picks up stones, big and small.