Modern road legal semi slick tyre with asymmetric tread and tyre shoulder design. Not symmetric radius geometry of inside/outside shoulder allow to increase grip and handling precision when cornering together with bigger contact area when braking. Reinforced sidewalls with advanced compounds formulations offers supreme grip and immediate steering reaction. Available in hard, medium, soft and super soft compounds.
Tyre Reviews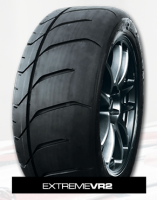 Sorry, we don't currently have any magazine tyre tests for the Extreme Performance VR2
Sorry, we don't currently have any label data for the Extreme Performance VR2
Questions and Answers for the Extreme Performance VR2
2020-04-22 - Hi! Which cheap semi slick could be better for an Alfa 156 2,5V6 (Front, 1300 kg, 200 PS, Eibach PRO-Kit coilovers and springs, Brembo 330mm Brakes, 8x17j wheels) for trackday in dry conditions on the Hungaroring? I thought on the Westlake RS, Nankang NS-2R, Achilles 123S, Extreme VR2, Federal 595 in 225/45 R17. Which treadwear is optimal for this use? Thank you! Best regards, Gyulai Mark
Unfortunately we've not tested any of these tyres, and have only seen the Nankang appear in tests. This is something we'll be testing this year, so stay tuned!
---
Ask a question
We will never publish or share your email address
Top 3 Extreme Performance VR2 Reviews
Given
74%
while driving a
Renault Clio 1.8 16v
(195/50 R15 H) on
a combination of roads
for 0
average
miles
Hi I was used 195/50/15 R5NK Vr2 for Slalom competition, R5 soft compound give you fast start and nice grib from beginning to finish with this price the best chose for all drivers amateur and professional drivers.
used in competition this tyre gave me more grip then r888, r1r or yokohama a048. i was even faster on extreme tyres then i was on avon slicks!
steady under heavy braking,
very easy to find the limit of the tyre and still easy to control once you're over the limit
i'll never drive another tyre on track again
i tested r5 and r7 compound, both withstand heavy track abuse on high track temperatures.

Given
73%
while driving a
Ford Focus RS
(255/35 R18 W) on
track
for 0
spirited
miles
This is killer of a tyre - and not just for the price. Wonderful handling and grip (in the dry), withstands abuse that kills Cup2s in 30mins. On a heavy car, mine survived (barely) one tarmac rally, one day at Spa, one at Nordschleife and four other track days. They are heavy, loud, but cheap.

Have you driven on the Extreme Performance VR2 tyre?
Have YOU got experience with the Extreme Performance VR2? Help millions of other tyre buyers
Latest Extreme Performance VR2 Reviews
Given
79%
while driving a
BMW 330ti E36
(225/45 R17) on
track
for 1,000
spirited
miles
Hi, i´ve driven the 651 Sport (200TW), Federal 595Rs-Pro, Nankang NS2R (120TW) on my 1994 E36 Compact. These Tires feel happy around 2-3° Camber at the Track, but since I tried the VR2 R7A, the Car needed 4-5° Camber in the Front. The VR2 is in my Opinion clearly a Semislick, not another UUHP/Extreme Performance Tire. My Car weighs 1040kg, Power ~230-250hp. Coldpressure F+R 1,7-1,8Bar. Hot 2,2-2,3Bar. I´ll def. buy them again.
Given
77%
while driving a
Audi TT RS
(225/45 R17) on
track
for 200
spirited
miles
used for hill climbs 10 wins from 10 starts, loads of grip and feel, progressive slides good under brakes and go where you point them, road noise very high, wet grip good, tyre wear ok about the same as any other track tyre, and big bonus there cheap
Given
46%
while driving a
Mazda RX8
(235/40 R18 W) on
track
for 2,000
spirited
miles
Used as track tyres on Mazda RX8. In my opinion they need too much attention in temperature handling. You overheat them and the grip is gone. In range 40-80 Celcius they were fine, but anything above and really over 100*C they are starting to give up in every corner. Good tyre in comparison to it's price but if you need something that would last you little longer and give more grip then better find something else. Response was good, it felt tight and went where you want them to. As a big minus this tyre is going to change it's pressure every lap, so keep that in mind. You need to start really low to keep it happy and cool. :)