Falken's new rigid carcass construction enhances steering response and vehicle stability, while the motorsports-inspired tread compound provides unmatched grip for those who prioritize peak performance above all else. The track-ready RT660 is DOT-approved, saving drivers the hassle of swapping tires before each track day. Designed to heighten the connection between road and driver, and available in a wider range of fitments than its predecessor, the Falken AZENIS RT660 invites more enthusiasts to experience the difference.
Tyre Reviews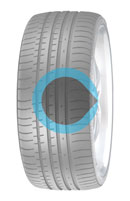 Tyre review data from 2 tyre reviews averaging 78% over 1,003 miles driven.
The Azenis RT660 is unranked of 26 Summer Trackday and Competition tyres.
Latest Tyre Test Results
2021 Track Day 200TW Tyre Test - 2nd of 8 tyres
Positive - Excellent heat management, low wear, precise and consistent steering, extremely strong on the brakes, very enjoyable tyre to drive, very stable once heat cycled.
Negative - Not quite as fast as the BFGoodrich G Force Rival S 1.5
Overall - The Falken RS660 is a very well priced, extremely capable tyre with good grip, direct and stable handling and very impressive heat management.

View Full Test >>
Sorry, we don't currently have any label data for the Falken Azenis RT660
Sorry, we don't currently have any questions and answers for the Falken Azenis RT660. Why not submit a question to our tyre experts using the form below!
Ask a question
We will never publish or share your email address
YouTube Review
Have you driven on the Falken Azenis RT660 tyre?
Have YOU got experience with the Falken Azenis RT660? Help millions of other tyre buyers
Latest Falken Azenis RT660 Reviews
For 2021 I needed new tires for autocross and with the RE71R no longer available, my shopping list was pretty short; the RT660 or the Yokahama A052. Both tires have had reports of not being happy on front-wheel drive, camber limited cars like my GTI. Between the two tires my autocross contacts recommended the RT660, and I decided to gamble on them. After all my experience being on the RE71R, I was a bit nervous. The RT660s did not disappoint. Positives - Good feedback though I miss the on -center feel and stiff sidewalls of the RE71R - Grip! I was pushing through a large sweeper at full throttle. I expected to lose grip and possibly spin, only to be pleasantly surprised. Negatives - Not much given my narrow expectations. - Accelerated wear. I will not get two seasons of autocross out of these like I did the RE71Rs After about 100 runs I have zero signs of tire chunking or delamination. I am extremely careful about my tire pressures, which in my case are generally 44 front and 39-40 rear. Tire wear is high, so I will not get two seasons of use out of these tires. I did have them flipped on the wheels and I rotated front/rear, but autocross is hard on tires. I will buy the RT660s again.
Given
80%
while driving a
Dodge SRT4 Neon
(/45 R17) on
a combination of roads
for 1,000
spirited
miles
Stage 3 turbo w/ a mild tune. 17x7.5 SSR Comp-C wheels for a good fitment. These were bought to replace a well overdue set of Hanook RS-3 tires of the same size. I originally wanted to get their RS-4 tire, but couldn't find any in stock. After some searching, and several online reviews, I took a chance and "settled" on these Falken RT660 tires. "Settled" was the wrong thought about these tires. They are, quite frankly, amazing, but with some tradeoffs. At least in this application, they are very sensitive to setup. Alignment needs to be spot on the factory recommended specs, air pressures need to be tightly monitored (OEM is 32psi all around, but the rear end tends to oversteer at those pressures; 32psi front/28psi rear seems to be the sweet spot so far.) These characteristics are both a curse and a blessing. Once you get everything dialed in they will reward you with an insane level of grip. Lately I've pushed them pretty hard (maybe even too hard) on non-closed-course areas, and have yet to find the upper level of grip. I desperately need an event where I can explore the lofty capabilities these tires are exhibiting. In terms of noise level though, these the most "chatty" tire I've ever experienced. They "chirp" over every piece of seam sealer out there, and will frankly howl like the devil on the highway. Luckily, rolling the windows mostly up (or going faster, so wind noise drowns them out!) takes care of the problem nicely. While I ranked the "comfort" level relatively low above, I do not consider it so sufficiently evil that I regret the choice. In terms foul weather performance, this is my "toy" car, so it generally doesn't see anything other than bright and sunny days. That being said, I did get caught out by a particularly bad weather forecast, and was struck by some rather substantial rain. While I didn't drive with my usual zest, I none the less did not feel out of control in any way, at posted speeds. For fun at a traffic light I explored the levels of grip available for launching. It was more than adequate. As such I rated the wet grip just a bit above neutral. Short of being at a paid for event that receives precipitation, I won't be able to expand upon the wet weather characteristics. In terms of general wear, I didn't particularly baby these tires after initial install, but as of late have been even more spirited in their use. Visual evidence of such is not appearing yet, so they are at least handling my use quite well so far. One final note about the tires themselves. I do not know if it's the general norm for Falken's tires, but when these were mounted (and mounted properly; the shop put the yellow dot at the valve stem) 3 assemblies balanced perfectly (0 weight added) and 1 assembly has 0.25oz total weight added. I've NEVER had that happen before, so well done to Falken for that. Overall, I am extremely pleased with my purchase and would highly recommend them.