The Goodride SA57 is a High Performance Summer tyre designed to be fitted to Passenger Cars.
This tyre replaced the Goodride SV308.
Tyre Reviews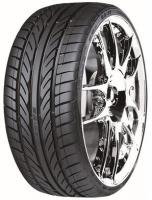 Sorry, we don't currently have any label data for the Goodride SA57
Sorry, we don't currently have any questions and answers for the Goodride SA57. Why not submit a question to our tyre experts using the form below!
Ask a question
We will never publish or share your email address
Have you driven on the Goodride SA57 tyre?
Have YOU got experience with the Goodride SA57? Help millions of other tyre buyers
Latest Goodride SA57 Reviews
Given
73%
while driving a
Kia Motors Stonic
(225/50 R17) on
a combination of roads
for 6,000
average
miles
Been on them for the past 10k kms and I must say these tyres are indeed value for money with reasonable UTQG ratings-tread-wear of 480😱 as well as single A for temperature and traction. Grip in the dry was high without any protest from the tyres but feedback was kinda muted and I do not know if the tyres would progressively/suddenly lose grip. However-the same can't be said when in the wet though when it will progressively loses it's grip perhaps due to it's non-silica compound. Wear rate of the tyre was absolutely low and when on the right tyre pressure-it can be comfortable as well!😉
A very good comfort tyre on a very good price and safe on wet and aquaplaning..! But on dry and cornering pressure there is no feedback grip or any handling.. It's just an economy comfort tyre for an everyday car with good treadware not for sport driving!