Goodyear Eagle Exhilarate
The Goodyear Eagle Exhilarate is a Ultra High Performance All Season tyre designed to be fitted to Passenger Cars.
Tyre Reviews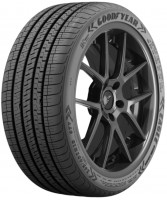 Tyre review data from 4 tyre reviews averaging 88% over 20,002 miles driven.
The Eagle Exhilarate is ranked 5th of 16 All Season Ultra High Performance tyres.
Latest Tyre Test Results
2020 Tyre Reviews UHP All Season Tyre Test - 2nd of 7 tyres
Positive - Excellent all round tire, sporty handling in the dry and wet, good levels of comfort, low noise, well priced.
Negative - Average dry braking.
Overall - The Goodyear Eagle Exhilarate is an impressively sporty feeling ultra high performance tyre, that manages to blend good handling with good levels of nose and comfort.


View Full Test >>
Sorry, we don't currently have any label data for the Goodyear Eagle Exhilarate
Sorry, we don't currently have any questions and answers for the Goodyear Eagle Exhilarate. Why not submit a question to our tyre experts using the form below!
Ask a question
We will never publish or share your email address
Top 3 Goodyear Eagle Exhilarate Reviews
We just purchased the Goodyear Eagle Exhilarate about 2 months ago to replace the PS4S 20" tires/wheels that came stock on our Tesla Model 3 Performance. We plan on only having 1 set of wheels and tires and wanted better efficiency with lighter weight so the 19" wheel/tire combo came into play. Here is where the Goodyear Eagle Exhilarate came into play with our decision to have a high performance all season tire that we can run year round here in Denver. We have had one decent snow ❄ storm and the tires did pretty well considering the Model 3 is all wheel drive which helps in traction along with the low center of gravity. They were cheaper than the Michelins so we took a chance on them and they seem to be a great buy 2 months into ownership!
Great tire, not as good handling as the MPS4S I took off but they didn't work in the snow at all and these actually are pretty good for such a sporty feeling tire!
Really good UHP All season tyre, replaced Michelin Pilot All Season 3s and these feel more sporty. They're not amazing in the snow compared to a winter tyre but seem better than the Michelins I've taken off. Very happy. Highly recommended and will be buying again.
Have you driven on the Goodyear Eagle Exhilarate tyre?
Have YOU got experience with the Goodyear Eagle Exhilarate? Help millions of other tyre buyers
Latest Goodyear Eagle Exhilarate Reviews
The Exhilarates were very comfortable on all road surfaces. Dry handling felt safe at any speed but generally I'm not an agressive driver. (I came off a set of Goodyear Asmyrical 2 or 3? I don't remember which ones but they were summer tires that were quite noisy.) The Exhilarates were specially good in the rain which can get you in trouble when you hit deep water because your confidence levels are quite high in the wet. As for wear I didn't drive on them but 5,000 miles (and sold the car) and I really don't care about longevity.