The Goodyear Eagle UltraGrip is a Ultra High Performance Winter tyre designed to be fitted to Passenger Cars.
Tyre Reviews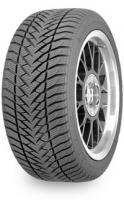 Sorry, we don't currently have any magazine tyre tests for the Goodyear Eagle UltraGrip
| Size | Fuel | Wet | Noise | Weight |
| --- | --- | --- | --- | --- |
| 235/55 R17 103V XL | F | E | 68 | 13.62kgs |
| 255/50 R19 107V XL *RSC | E | C | 69 | 19.25kgs |
Sorry, we don't currently have any questions and answers for the Goodyear Eagle UltraGrip. Why not submit a question to our tyre experts using the form below!
Ask a question
We will never publish or share your email address
Have you driven on the Goodyear Eagle UltraGrip tyre?
Have YOU got experience with the Goodyear Eagle UltraGrip? Help millions of other tyre buyers
Latest Goodyear Eagle UltraGrip Reviews
Given
91%
while driving a
BMW 118d M Sport
(225/45 R17 V) on
mostly motorways
for 55,000
spirited
miles
My 4th set of various versions of Goodyear winter tyres, just about to replace my first set of GW3 for another set. Rears managed 45,000 miles and would have made 55,000 if not for a puncture leading me to replace both of them. Front tyres managed 55,000 miles with still legal tread but I'm heading to the Alps this weekend so wanted full tread depth. They're no louder than the Continental summer tyres that were fitted when I bought the car. Car grips well in all conditions, performs well in snow and ice, extremely well wearing - they were run through the summer as well as winter because frankly I couldn't be bothered to get them changed.
Given
81%
while driving a
Skoda Fabia vRS
(205/45 R16) on
mostly country roads
for 7,000
spirited
miles
good tyres, run them for 3 winters now in the UK on my vRS, the colder it gets the better they get. old design now, but still worth it over summer tyres :)
Given
73%
while driving a
BMW 120d
(205/55 R16 W) on
a combination of roads
for 5,000
spirited
miles
good year eagle m+s ultra grip gw-3 run flat

great for dry and wet conditions but not that good on snow
Great tyres. Unlike many on hear i bought these tyres for a FWD car. My brother has a e46 BMW sport which is unbelievably poor in winter conditions and I'll be recommending these to him when the pilot sport's need changing. They have been very hardwearing on my golf gt Tdi, a car renowned for eating their front tyres. I have had them on with little sign of wear for 5000 miles and I have no doubt they'll do another 5000-10000! Would defiantly recommend!
Given
83%
while driving a
BMW 123d
(225/45 R17 W) on
a combination of roads
for 500
average
miles
Have spent a couple of weeks driving around on these now, the last week of which has been on snow. Having a rear drive BMW these tyres have been a god send. Last winter in the snow I had a TT with Quattro which was amazing, I was worried this year as most of the cars I saw stuck were Beemers or Mercs, but with these tyres I've had no problems at all even starting on steep snowy slopes. I can't recommend these highly enough. Well worth the money for the peace of mind alone.